From Brickipedia, the LEGO Wiki
Ben 10: Alien Force

Years:
Subtheme of:
Related themes:
Ben 10: Alien Force was a theme based on the Cartoon Network animated series of the same name. It was introduced in 2010 and discontinued later in that same year. A theme based on Ben 10 was part of a business plan to popularize constraction with younger builders than BIONICLE had attracted.[1] It was very unsuccessful with LEGO buyers and only lasted about 6 months on the market in some countries.[source?] Similar to other constraction themes, it is considered a TECHNIC subtheme.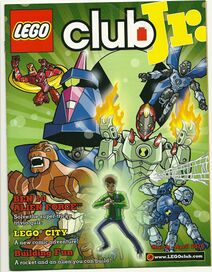 Set five years after the events of the original Ben 10 series, Ben 10: Alien Force follows the 15-year-old Ben Tennyson as he trains a new team of teenaged heroes to fight the genocidal Highbreed and locate his missing grandfather, Max. The Omnitrix, the strange wristwatch-like device that allows him to transform into ten different types of super-powered alien, has recalibrated, giving him access to a new selection of breeds and abilities.
The theme was small and short-lived, containing just six sets. Each set is an action figure version of one of Ben's alien forms, composed of between fourteen and twenty-two pieces. They are similar to BIONICLE figures but with simplified constructions and more specific parts. The theme was the first to use a redesigned ball-and-socket joint, intended to replace the earlier, more rigid kind that was prone to breaking. Each figure has glow-in-the-dark eyes and a glow-in-the-dark Omnitrix on its chest.