From Brickipedia, the LEGO Wiki
This article needs to be built up.
This article lacks substantial content. You can help Brickipedia by "adding on some bricks."
In other words, it needs to be expanded. After you expand the article, please remove the "Expand" template. Further information might be found on the talk page.
LEGOLAND is a LEGO theme that ran from 1969 to 1978; almost a decade (ten year) run. The theme's sets varied, including rocket ships, rodeos, and much more. The LEGOLAND Minifigures used in various LEGOLAND sets were different to the minifigures used today. Instead, the minifigures only had a torso, legs which couldn't move, a head piece, and a cap.
Here is an overview of what LEGOLAND looked like in the first years (from instructions of the 603 Vintage car):

In 1972, this is the set of LEGOLAND sold in Switzerland (with prices in CHF):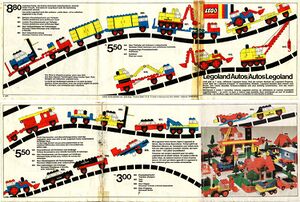 LEGOLAND Subthemes & set count
[
edit
|
edit source
]
LEGOLAND (161)