From Brickipedia, the LEGO Wiki
This name of Part page needs to be changed to its correct Design ID.
Please move this page to its correct Design ID if you know it. Then you may remove this Template from the page.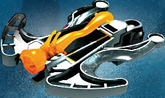 The Squid Launcher is a weapon used by several characters in the BIONICLE story. It is a device that shoots small squids, which in the BIONICLE universe, are vampiric. In the sets, the squid is fired by pulling back on the squid's tail and releasing. The squids in the LEGO set are made out of rubber, thus being sticky. Squid launchers were included in the Barraki sets, and 8940 Karzahni.