From Brickipedia, the LEGO Wiki
Traffic

Years:
Subtheme of:
Traffic is a subtheme of City that was released in 2009.
Description
[
edit
]
This theme focuses more on how a real city would be - people camping, going to the pizzeria, a family grilling, and tow trucks fixing cars. This theme was created after several years of rescue-based themes (Fire, Police, and Emergency).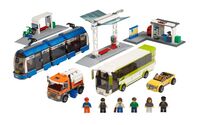 | | | | | | | |
| --- | --- | --- | --- | --- | --- | --- |
| Image | # | Set | Pieces | Figures | Price | Released |
| | 3177  | Small Car  | 43  | Person   | $4.99 / €4.99  | December, 2009 (US and UK)  |
| | 3179  | Repair Truck  | 118  | Mechanic   | $12.99 / €12.99  | December 30, 2009 (US and UK)  |
| | 3180  | Tank Truck  | 222  | Driver   | $19.99 / €19.99  | December 30, 2009 (UK) May 27, 2010 (US)  |
| | 7639  | Camper  | 165  | 2   | $16.99 / €16.99  | June 2009  |
| | 7641  | City Corner  | 483  | 5   | $59.99 / €49.99  | June 2009  |
| | 7747  | Wind Turbine Transport  | 444  | Truck Driver, Person   | $59.99 / €59.99  | August 2009  |
| | 7993  | Service Station  | 402  | 3   | $39.99 / €37.99  | 2007  |
| | 8398  | BBQ Stand  | 22  | Chef   | $3.49 / €2.99  | 2009  |
| | 8401  | LEGO City Minifigure Collection  | 60  | 4 People   | $9.99 / €8.99  | 2009  |
| | 8402  | Sports Car  | 68  | Person   | $9.99 / €8.99  | January 28, 2009  |
| | 8403  | City House  | 383  | Mom, Dad, Boy   | $39.99 / €39.99  | July 15th, 2010  |
| | 8404  | Public Transport  | 864  | Bus Driver (City), Garbage Truck Driver, Passenger, Bicyclist, Tram Driver, Shop Assistant (2x)   | $99.99 / €99.99  | August 1, 2010  |
See also
[
edit
]