From Brickipedia, the LEGO Wiki
Camper

Item №:

7639

Pieces:

165

Minifigures:

2

Price:

$16.99
€16.99
£14.99
$29.99

Ages:

5-12

Released:
Theme:
7639 Camper was a City Traffic set released in 2009. It contains a camper, two minifigures (a male and a female), a surfboard and a bicycle.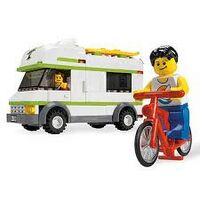 The camper van consists of a driver's cabin with one seat and a coach-built body behind it. Above the cab sits a raised Luton van style area containing a bed. The van's body can be accessed by swinging out either of its sidewalls forward after removing a light on the rear that holds the two walls together. Inside are two seats and a small table. On the left wall is a frying pan and on the right a cup. On the aft wall is a TV (sticker on a 2x2 tile). On the outside is a small ladder, affixed to the back of the van, that leads up to the roof where a yellow surfboard and a red bicycle are stored.
Also included are a small grill and a fish.

This is a description taken from LEGO.com. Please do not modify it. Hit the road with the LEGO City Camper!
It's vacation time! Pack up the Camper with everything you'll need for the trip, including a surfboard, bike & grill. Adventure and the open road await!
Includes 2 minifigures (male/female), bicycle, surfboard & more!
Features details like kitchen and sleeping area! Open the Camper to play inside!
Camper measures 5.5 inches (14 cm) long by 3 inches (7.6 cm) tall!