3183 Stephanie's Cool Convertible
From Brickipedia, the LEGO Wiki
Stephanie's Cool Convertible

Box

Set

Item №:

3183

Pieces:

130

Minifigures:
Other figures:
Price:
$14.99
€14.99
£14.99
$24.99

Additional prices:

$29.99

Ages:

6-12

Released:
Theme:
3183 Stephanie's Cool Convertible is a Friends set released in 2012. It includes a convertible car, Stephanie, Coco and a carwash.
Stephanie's convertible is mostly lavendar in colour, but the rear-view mirrors, the crate in the back, and the wheel guards are azure. It also has azure highlights. The head lights are yellow. It has a yellow star on the hood and a transparent windshield. The convertible has room for two Mini-doll figures. The crate in the back of the car has a pink basket with various lighter pink hair accessories.
The carwash has a white lamp at the side with a green plant with pink flowers coming of the the left. To the right is an azure bench with white stands. To the right is a yellow stand with a golden faucet to fill a pink bucket. Between the faucet and the bench is an azure bottle with a grey nozzle.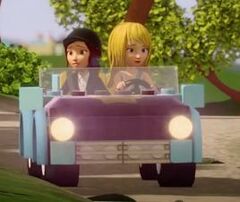 According to her LEGO.com bio, her convertible is one of Stephanie's favourite places to hang out. Stephanie rides around Heartlake City in her convertible. She sometimes takes her friends and puppy, Coco with her on her journeys. When her car gets dirty she washes it at the carwash.
Stephanie's cool convertible appears in one episode, New Girl in Town. Stephanie and Mia drive around in her convertible, looking for Mia's lost horse, Bella. When they find Bella they call Sophie to bring Bella to the vet.
The pink hair accessory pack is exclusive to this set.
Stephanie's dog, Coco is exclusive to this set.

This is a description taken from LEGO.com. Please do not modify it. (visit this item's product page) Cruise in style with Stephanie's Cool Convertible!
Hop into the coolest ride in Heartlake City to pick up the LEGO® Friends for a road trip full of fun and adventure! Stephanie loves cruising in her Cool Convertible. Help her wash it to a sparkle and load her puppy into the backseat! Then take the LEGO Friends to the beauty shop, to the beach, or go on a road trip with the girls! Includes Stephanie mini-doll figure.
Includes Stephanie mini-doll figure and dog Coco
Features carwash, bench and streetlamp
Carwash includes water tap, bucket and brush
Accessories include MP3 player, purse and hair accessory pack with bows, sunglasses, a hairdryer, hairbrush and a mirror
Wash the Cool Convertible with the carwash!
Customize your style with the hair accessory pack!
LEGO® Friends pieces are fully compatible with all LEGO System bricks
Collect all of the LEGO Friends sets for a whole world of LEGO Friends fun!
LEGO mini-dolls are LEGO minifigures made especially for the world of LEGO *Friends with thousands of customizable hair and fashion combinations
Measures over 1" (4cm) tall, 2" (6cm) wide and 4" (11cm) long
Car wash measures over 3" (8cm) tall, 3" (8cm) wide and 1" (3cm) long