3366 Satellite Launch Pad
From Brickipedia, the LEGO Wiki
Satellite Launch Pad

Item №:

3366

Pieces:

165

Minifigures:
Price:

$19.99
€16.99
£13.99
$29.99

Ages:

5-12

Released:
Theme:
3366 Satellite Launch Pad is a City set released in March 2011 as part of the Space subtheme. The space logo included in the set is a modernized version of the Classic Space logo.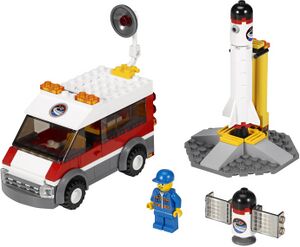 Satellite Launch Pad:
The satellite launch pad has four sloped tiles underneath, with three slopes connecting them together from the front, right, and left. On the back of the launching pad are two tall columns with a hinge to attach a satellite or rocket onto.[1]
Service Truck:
The front of the service truck has a grill using SNOT, and a hood using a white 2 x 4 slope in the centre and two bright red 1 x 2 slopes on the right and left. The service truck's front glass can be removed with the ceiling so it can sit in a minifigure. There are opening and closing doors on the right and left that follow the bright red 1 x 2 slopes on the hood.[2] The back has a door that can be opened and closed by a hinge so it can fit in a rocket or satellite. On top of the truck is a flexible arm with a satellite dish on it.[3]
The Satellite:
The satellite consists of four round bricks mounted on a rocket base with another piece on top. that piece has has a modernized version of the Classic Space logo attached to it via sticker. On top of that there are two more pieces, a small flat one, and a round cap brick. There is an extra satellite included.

This is a description taken from LEGO.com. Please do not modify it. (visit this item's product page) Send this deep space dish over the moon and into orbit!
Send the new communications satellite soaring into space! Hop in the truck and drive to the launch pad. Then help the technician to prepare the rocket for blasting into orbit!
Includes technician minifigure
Features truck and satellite
Move the satellite onto the launch pad with the truck!
Measures over 3" (7cm) wide and 3" (7cm) tall
Rocket measures over 4" (10cm) tall
Truck measures over 4" (10cm) long and 2" (5cm) tall
Satellite measures over 2" (5cm) wide
(Images from the 2011 New York Toy Fair are courtesy of fbtb)