From Brickipedia, the LEGO Wiki
Marina

Item №:

4644

Pieces:

294

Minifigures:

5

Price:

$49.99
€49.99
£41.99
$79.99

Ages:

5-12

Released:
Theme:
4644 Marina is a City set released in May 2011. It includes 294 pieces. It was released in the United States on May 13, 2011 at a price of $49.99 USD.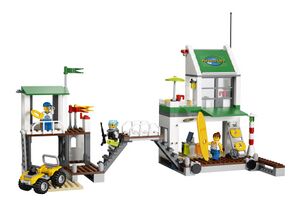 Marina:
The main portion of the set is the marina which has two connected sections. The first section of the marina has a tile to place on a dune buggy.[1] On the right side of the tile are pieces forming a dock. On top of the dock and the tile are stands supporting up a tower. The tower has a ladder, a banister, a flag, and doors supporting up a dark green roof.[2] The second section has a dock with a large beach supply shop. The interior of the shop features a cash register and many supplies for the beach including surf boards and flippers.[3] Next to the shop is a small lighthouse with a green light. An archway staircase intertwines the two sections, and has enough room for a small boat to pass through.
Vehicles:
A plastic boat is included in the set,[4] and features two seats at the front, a driving system near the centre,[5] and two hinges on the right and left sides with a flexible shaft intertwining each hinge together. There is also a small dune buggy.

This is a description taken from LEGO.com. Please do not modify it. (visit this item's product page) Head for summer fun in the sun at the Marina!
The LEGO® City Marina is bursting with fun in the sun! As the lifeguard keeps a careful watch from the lookout tower, ride the quad bike to the water's edge, grab your windsurfer or head out by the dinghy for a busy day at the beach. If diving is more your speed, strap on your flippers and grasp your harpoon to fish for dinner! When it's time to hang ten by the sand dunes, head on over to the surf shop or relax at the paradise café. Includes 5 minifigures: wind surfer, lifeguard, sailor, diver and girl
Features watch tower, surf shop and paradise café
Vehicles include dinghy and quad bike
Accessories include surfboard, windsurfer, harpoon, scuba gear, 4 pairs of flippers, 3 life jackets and more
Measures over 14" (35cm) wide and 7" (17cm) tall
Quad bike measures over 2" (5cm) long
Dinghy measures over 3" (7cm) wide and 6" (15cm) long