From Brickipedia, the LEGO Wiki
Prisoner Transport

Item №:

7286

Pieces:

173

Minifigures:
Price:

$19.99
€16.99
£13.99
$29.99

Ages:

5-12

Released:

January 2011

Theme:

7286 Prisoner Transport is a City set that was mainly released in 2010 in the United States, and then in 2011 elsewhere.
The Prisoner Transport has a dark grey base with light stone grey wheel hubs and black tires. The main colour of the truck is white, but also has blue pieces. The vehicle is divided up into three parts: the front, the accessory bay, and the prison bay.
The Front
This part contains the place to drive the vehicle. Here there is a yellow seat and steering wheel, and a red mug. Exterior design includes white wheel-guards, doors, and hood, with 'Police' displayed in white at the front with a blue background. A transparent 3x6 windshield is included, and the front part is finished off by a 4x6 'roof' piece and some dark grey binoculars depicting lights. Behind the front of the vehicle is the accessory bay.
The Accessory Bay
At the bottom of the bay are two 2x4 light stone grey flat pieces. Two white 'cupboard' pieces make up the side of the vehicle, and can flip open. A black 4x3 cutaway piece separates the accessory bay from the prisoner bay.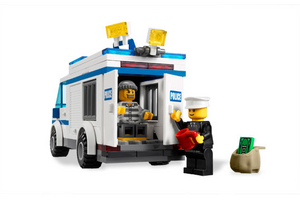 Prisoner Bay
The prisoner bay has a yellow seat in it. Next to this are two white wheel guards, with some jail windows on top. At the back of the prisoner bay are two 3x3x4 doors, with a transparent yellow light at the top centre. The roof has a rotating transparent yellow light on the top of it.
Other
The set also includes a white police barrier with printings on it, an orange motorbike, a police officer, a crook with a backpack and a one-hundred-dollar note, and a yellow 3x4 bow with several accessories to go inside: a torch, two pairs of handcuffs, a loud speaker, a light, and a radio.
After a robbery has happened in LEGO City, the Prisoner Transport is one of the police's vehicles to respond. They use this to transport criminals to jail.

This is a description taken from LEGO.com. Please do not modify it. (visit this item's product page) Transport the robber to jail!
Stop the robber escaping on the motorcycle using the roadblock! Chase him down if he tries to escape on foot. Once the police officer catches the robber, it's time to put him in the back of the van and drive him to jail!
Includes 2 minifigures: police officer and robber
Features include motorcycle, road block, money sack and money brick
Open the back doors to put the robber inside!
Transporter measures 5" (12cm) long and 2" (5cm) tall.
The crook in the van and The policeman outside, with the money that the Crook had stolen.