From Brickipedia, the LEGO Wiki
Mining 4x4

Item №:

4200

Pieces:

102

Minifigures:
Price:

$11.99
€9.99
£7.99
$15.99

Ages:

5-12

Released:
Theme:
4200 Mining 4x4 is a City Mining set released in 2012. It includes a 4x4 vehicle, the Crew Chief, a rock with dynamite attached to it and several props and tools.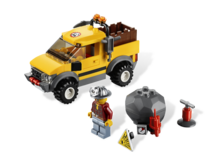 The 4x4 vehicle is yellow and grey, with a mining symbol on the roof. In the front is a steering wheel and enough room to seat one minifigure. It is much like a pick-up truck, with a small cab and a large, open back section. The back holds a crate that can store the set's tools and equipment: explosives, a warning sign, some TNT with a timer on it and the device to set it off remotely. Two gripping pieces, one on each side of the vehicle, can hold either a pickaxe or a jackhammer - two other accessories that the set contains. The doors have handles and can open and close with relative ease. Two sloped pieces located in front of the doors and on either side serve as side-view mirrors for the driver. The 4x4 has a red bumper and a black grill, with transparent headlights on either side of it. The back lights flank a license plate piece and are transparent red.
The set also contains a dark grey boulder that, when split open, reveals two gold nuggets. Several light grey studs representing rocks and pebbles are also included.
The license plate on the 4x4 reads "J S 4200", a reference to the set's ID number.
This set was designed by Samuel Johnson.

This is a description taken from LEGO.com. Please do not modify it. (visit this item's product page) Let's mine for gold with the rugged 4X4!
The miner is driving his rugged Mining 4x4 and is on the lookout for gold. It won't be easy, but with his dynamite, hatchet and drill, it won't be long before he strikes gold. Blast the rock with the dynamite to find the gold nuggets and crystals! Includes miner minifigure.
Includes miner minifigure
Mining 4x4 features rear storage compartment
Accessories include hatchet, drill, dynamite with timer and detonator, warning sign, big rock containing gold nuggets and 2 gold crystals, and mining helmet
Blast the rock with the dynamite!
Find the gold!
Drive over rocky mine terrain with the Mining 4x4!
Measures over 2" (6cm) high, 2" (5cm) wide and 4" (11cm) long