6085 Black Monarch's Castle
From Brickipedia, the LEGO Wiki
Black Monarch's Castle

Item №:

6085

Pieces:

695

Minifigures:

12

Price:

$68.00

Ages:

8-12

Released:
Theme:

6085 Black Monarch's Castle was a Black Knights set released in 1988. It contained a large castle, four horses and twelve minifigures, including four knights on horseback, four archers and four guards. This was one of the first sets with Black Knights involvement and the first of two castles of this faction.
Description
[
edit
]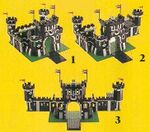 The castle is similar in structure to the Crusaders' 6080 King's Castle from 1984 but features more elaborately designed walls and towers. Just as in the older set, the building consists of an outer wall that encloses a courtyard, with two towers on the rear corners and a gatehouse at the front. The gatehouse included a drawbridge and a portcullis. The whole castle is made up of three segments of which the two rear smaller segments (with the towers) are connected by hingebricks to the rear corners of the fore segment with the gatehouse. This allows to fold the castle open, just like the King's Castle. Under the rear right tower is a prison cell closed by a new latticed door piece that debuted in this set.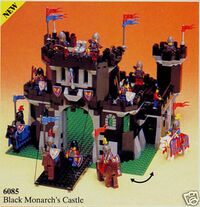 This was the first major fortification of the Black Knights. It was supplemented by the smaller 6059 Knight's Stronghold in 1990 and was eventually replaced by the second and last castle of this faction, 6086 Black Knight's Castle, in 1992.
The horse barding pieces with the dragon motif also appeared in the two Knight's Challenge sets from the same year and in Black Knight's Castle.
See also
[
edit
]
Gallery
[
edit
]
External links
[
edit
]