From Brickipedia, the LEGO Wiki
This article is about the Minifigures Series and related set. For the company and a list of themes licensed by it, see The Walt Disney Company.
Disney

Years:
Related themes:
Disney is a line of LEGO products introduced in 2016. It features a wide range of characters from The Walt Disney Company's library of animated films, including their subsidiary Pixar. Though Disney licensed products have been released before--going back to, 427 Pluto, the very first licensed LEGO toy--this theme collects characters together which can only be related together underneath the Disney brand. As of now, the line follows a pattern similar to The Simpsons; being comprised of a set of collectable minifigures and having a large exclusive "Direct to Consumer" set on the way on September 1.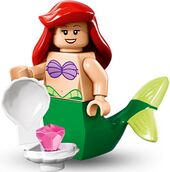 The two Disney products currently feature characters based on the following nine animated films and franchises:
Aladdin
Alice in Wonderland
Lilo & Stitch
Mickey Mouse
Peter Pan
Sleeping Beauty
The Incredibles
The Little Mermaid
Toy Story
In addition, 71040 The Disney Castle is based on the attraction at the Walt Disney World Resort, which is a replica of the castle which appears in the Cinderella movie. The set contains references to Fantasia and most of the Disney Princess films, including Aladdin, Brave, Beauty and the Beast, Cinderella, Sleeping Beauty, Snow White, Tangled, and The Princess and the Frog. Notably, aside from Aladdin and Sleeping Beauty, minifigures based on these films have not been released, and some of them have not even featured in Disney Princess sets.
A list of themes which focus on these and other Disney properties can be found here.
It is unknown when LEGO released 427 Pluto, their first Disney product, but it was in the days when the company was still in the business of producing wooden toys. Kits of plastic LEGO bricks were generally unlicensed until 1999. Though that year is better known for the introduction of LEGO Star Wars, DUPLO Winnie The Pooh sets, licensed by Disney, were also released that year. Over the next decade, LEGO System and DUPLO sets featuring Mickey and Minnie Mouse were released sporadically. However, on February 15, 2009 LEGO and Disney announced plans for LEGO tie-ins to Disney movies Cars, Toy Story 3, and Prince of Persia which would release in 2010.[1] LEGO's relationship with Disney would continue to grow over the next few years. Pirates of the Caribbean released in 2011, Marvel Super Heroes and the DUPLO based Disney Princess in 2012, and The Lone Ranger in 2013. In 2014, after the success of Friends, System-scaled Disney Princess sets were released with Mini-Doll Figures.
On April 1, 2015 LEGO fan-site Eurobricks Forums, as a prank, claimed that they had been purchased by The Walt Disney Company and changed their site to match. Seemingly keeping with the joke, YouTuber Just2Good announced that his inside source had informed him a series of Disney themed collectable minifigures would be released in May 2016.[2] In the spirit of April Fool's Day, Just2Good played up the fan community's suspicion that it might be a joke on his part, but continued to claim that the Disney Series was real after the holiday had passed.[3] He was vindicated as more rumours began to spread and the series was all but confirmed when hairpieces for several characters were leaked.
71012 The Disney Series was released on May 1, 2016, over a full year after they were first rumoured. It is the first Collectable Minifigures series to include more than 16 minifigures (not counting the elusive Mr. Gold who was hidden in 5,000 Minifigures Series 10 packets). The Disney Series features 18 characters from Disney and Pixar films. On July 7, a companion set 71040 The Disney Castle, including Donald Duck, new variants of Mickey Mouse, Minnie Mouse, and Daisy Duck as well as an exclusive Tinker Bell figure, was announced for a September 1 release date.
Despite the popularity of The Disney Series, LEGO fans with inside info have expressed doubt that a followup series will be released until at least 2019, with 2017's three slots being taken by 71017 The LEGO Batman Movie Series, 71018 Minifigures Series 17, and 71019 The LEGO Ninjago Movie Series and current rumours for 2018 pointing towards a second The LEGO Batman Movie series, costume party-themed Series 18, and an as of yet unrevealed licensed series based on an "old" property found in Dimensions.[4]
However, without another Disney Series being released, the banner has not died as in 2017 the Disney Princess theme rebranded to the simplified "Disney," swapping pink packaging for light blue.
Image
#
Set
Pieces
Figures
Price
Released
41143 
Berry's Kitchen 
61 
Berry  
$5.99 / €8,99 
2017 
41144 
Petite's Royal Stable 
75 
Petite  
$9.99 / €9,99 
2017 
41145 
Ariel and the Magic Spell 
222 
Ariel, Ursula  
€29,99 
2017 
41146 
Cinderella's Enchanted Evening 
350 
Cinderella, Fairy Godmother  
€39,99 
2017 
41147 
Anna's Snow Adventure 
153 
Anna  
$9.99 / €19,99 
2017 
41148 
Elsa's Magical Ice Palace 
701 
Anna, Elsa  
$79.99 / €69,99 
2017 
41149 
Moana's Island Adventure 
205 
Moana  
$24.99 
2017 
41150 
Moana's Ocean Voyage 
307 
Moana  
$39.99 / €39.99 
2017 
71012 
The Disney Series 
 
Captain Hook, Genie, Mr. Incredible, Syndrome, Peter Pan, Ursula, Mickey Mouse, Minnie Mouse, Donald Duck, Daisy Duck, Buzz Lightyear, Alien, Ariel, Aladdin, Stitch, Cheshire Cat, Maleficent, Alice  
$3.99 / €2.99 
May 2016 
71040 
The Disney Castle 
4080 
Daisy Duck, Donald Duck, Mickey Mouse, Minnie Mouse, Tinker Bell  
$349.99 / €349.99 
August 17, 2016 (VIP Members)
September 1, 2016