From Brickipedia, the LEGO Wiki
This article is in need of an update. Once the required information has been added (listed below), this template may be removed.
Content that needs to be updated:


2018 variant
"My fairy tale life began when I left my shoe behind"
―Cinderella
Cinderella is a Disney Princess character released in 2012 as a part of the DUPLO line. In 2014, her story was also adapted for two System sets. In 2015 she returned once again as a DUPLO Figure in 10596 Princess Collection.
Cinderella has white, unprinted legs. Over her legs she wears a light royal blue dress. Her torso is also light royal blue. In the middle it is printed with a medium blue undergarment with swirling, silver pattern. Her arms have short, light royal blue blue cap sleeves. The rest of her arms are light nougat in colour. Her light nougat head has large blue eyes with light royal blue eye shadow. Above her eyes she has brown eyelashes. Cinderella has a small mouth with pink lipstick, under her rounded nose. She has cool yellow hair pulled up into a French twist, her hair also has a blue band over it.
Cinderella has two system variations the first two have the following similarities; She has cool yellow hair tied in a bun with a fringe swept to to the left side, over her hair she wears a medium blue hairband. Like her DUPLO variation, Cinderella has light nougat skin. She has black eyebrows over her light blue eyes. In the centre of her face she has a small rounded nose. Below her nose she has an open smile which portrays her gnashing her teeth, her lips are decorated in bright purple lipstick. Both her torsos have low-cut necklines displaying her light nougat skin. Both of her system variations also have light royal blue cap sleeves, and matching opera gloves.
In 41053 Cinderella's Dream Carriage the gown she wears is light royal blue. The torso's low cut neckline is highlighted in medium blue. The rest of her torso is decorated with silver dots and sparkles. Her dress piece is also light royal blue, it is printed towards the bottom with a sliver outline of heart and sliver dots and sparkles surrounding it.
In 41055 Cinderella's Romantic Castle she now wears a medium blue gown. For this variation her torso is decorated with an outline of a heart with sliver sparkles and dots surrounding it. The left and right top of her gown portrays her peplums round and circular. The centre of her dress shows her light royal blue petticoat which is decorated with sliver specs and sparkles.
In 10729 Disney Princess Cinderella's Carriage Cinderella reuses her regular system hairpiece. Her eyebrow colour has now changed to tan. Cinderella wears a plain medium blue top, with a black choker around her neck. Her sleeves are light grey and her evening gloves are white. Her dress is mostly medium blue, but the center has an opening with white material and sparkles showing,.
When Cinderella's mother died her father searched for a new loving mother for Cinderella, which he believed he found in Lady Tremaine. After Cinderella's father's death Lady Tremaine, and her own daughters, Anastasia and Drizella, true wicked nature was displayed. Cinderella was deemed the family maid and had to do all of the work in the house, while her step family enjoyed their lives. Throughout all the harshness, Cinderella remained calm and she continued dreaming and wishing for a happier life.
One day when Cinderella woke up and Jaq informed her that a new mouse has been caught in a mouse trap. Cinderella then came to the mouse's rescue as she feared he would've be eaten by Lady Tremaine's sly cat, Lucifer otherwise. She then gave him the name of Octavius, but for short Gus. Cinderella then went and did her chores, including feeding chickens, cleaning her stepfamily's clothes, and making her stepfamily tea and breakfast.
When Prince Charming's father decided that his son was ready to marry, he planned a grand ball and sent out invitations to every maiden in the kingdom of France. After persuasion Lady Tremaine told Cinderella that she could go if she finished all of her chores, and found her dress to wear. She the found her mother's old dress to wear but deemed it wasn't modern enough, and she didn't have time to fix it. Jaq, Gus, the rest of the mice and birds decided to fix the dress as Cinderella had shown great kindness to them. After thanking the mice and birds, and putting on the dress Cinderella greats her stepfamily. Anastasia and Drizella then sabotage the dress to make sure Cinderella could not attend the ball.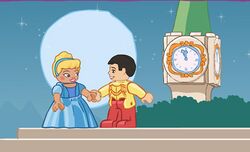 Cinderella ran to the garden and began to sob, in her tears she was visited by her Fairy Godmother who cast a spell, transforming Cinderella's rags into a gown, four of the mice into horses, Major into a coachman, Bruno into a footman, and a pumpkin into a carriage. She then warned Cinderella that the spell would break at midnight and everything would turn back to midnight. Cinderella then arrived at the ball and danced and sung with Prince Charming, unknowing that he was the prince. She then kissed him before she ran out as the clock's strike of midnight reminded her the spell would run out. She dropped one of the glass slippers in her hurry, which the prince collected. After everything returned back to normal amongst the woods, Cinderella then thanked her friends for helping her and she looked up to the heavens and thanked her fairy God mother.
The king then made the Grand Duke search the kingdom looking for the maiden whose foot it fit the slipper. When a notice is received by Lady Tremaine that every maiden must try of the glass slipper, she locks Cinderella in her room. Jaq,Gus and Bruno managed to get the key from Lady Tremaine and unlocked Cinderella from her room. After unsuccessful several attempts to put the slipper on Anastasia and Drizella, the Grand Duke was about to leave, until Cinderella stopped him. He then was about to try the slipper on Cinderella but Lady Tremaine knocked the Grand Duke over, which destroyed the slipper. Cinderella then informs the Grand Duke, she has the other glass slipper. Cinderella and the Prince become married, and then she and her friends live happily ever after in his castle.