From Brickipedia, the LEGO Wiki
Lucius Malfoy is a minifigure from the Harry Potter theme who was first released in 2002. Lucius has four variants in second different sets and appears in both Harry Potter video games. He is a Death Eater and the father of Draco Malfoy, Harry Potter's rival.
Description
[
edit
]
Lucius Malfoy has appeared in six sets. In 4766 Graveyard Duel, he had a two sided head, one being his normal face and one being the Death Eater mask he wore. In 4736 Freeing Dobby, Lucius again has a double sided face with a Death Eater mask, however, this version is different from the first one. In 10217 Diagon Alley, Lucius comes with his usual blond hair, and a black hood to be worn with his death eater mask, as a "death eater disguise." This is the same hood used for Dementors.
2002 Variant
[
edit
]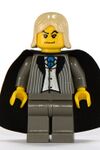 Lucius' first variant is based off his appearance in Harry Potter and the Chamber of Secrets. His first head has long, black expressive eyebrows and a smirk. His hair piece is 4530 in tan, which was used until his 2005 variant. His torso print depicts silver suit with three black buttons and a blue tie. Lucius wears a dark grey jacket with azure stripes. His legs are dark grey.
2003 Variant
[
edit
]
This version has a re-coloured suit. The base of the jacket is now black and the main suit is now dark grey. The azure stripes are now red, and the tie is now black. His legs are now black. His cape is not included in this version.
2005 Variant
[
edit
]
This variant is based off of his appearance as a Death Eater. His hear is now a Dumbeldore's in Tan. His head uses two new prints. The front side shows his Death Eater mask. This printing depicts a black mask with dark grey detailing and silver teeth. The back print is his unmasked face. This face has black intimidating eyebrows and a smirk. It is similar to the past version, but has smaller eyebrows and is now light nougat. His torso print is nearly the same as the 2002 version except this one has Light Nougat hands. He has a ragged grey fabric cape, also seen on Lord Voldemort.
2010 Variant
[
edit
]
In 2010, Lucius' 2005 variant was redesigned. Face has a similar Death Eater print to 2005 but this time more accurate to the movie and has silver detailing. His face has a stern look with brown eyebrows. This is the first version of Lucius to have cheekbones. He wears a black cloak with brown detailing on his torso. Under his cloak he has a green scaled shirt and a white tie. He also wears a gold medal. His legs are black.
In the video games
[
edit
]
In Years 1-4 he uses a light nougat version of the 2003 figure. This version also has Dumbledore's hair.
The Years 5-7 figure is the same as the Years 1-4 version but has the 2010 head.
Background
[
edit
]
Some time before the First Wizarding War, Lucius Malfoy became married to Narcissa Malfoy and had a son who he named Draco. During the First Wizarding War, Lucius joined Voldemort and became a Death Eater.
Lucius had planned to open the Chamber of Secrets in Hogwarts during Harry Potter's second year. Dobby, his house elf, heard of his plan and attempted to prevent Harry Potter from going to Hogwarts that year. To start his plan, Lucius put Tom Riddle's diary in Ginny Weasley's supply bucket. Ginny did open the Chamber under Voldemort's control but later thew the diary away after finding what it has made her do. Lucius later met with Dumbledore and Harry Potter after hearing that the Chamber had been opened. Harry Potter explained to Lucius that Ginny had not been the one that opened the chamber, that it had really been Voldemort using the diary. Hearing this Lucius left the office. Harry Potter found Lucius walking down a hallway on his way leaving Hogwarts and handing him the Riddle diary. Lucius then gave it too Dobby who found a sock inside. Knowing that Harry Potter has just freed his house elf, Lucius tries to kill him but fails due to Dobby's protection of Harry.
After Lucius' son, Draco, is injured by Buckbeak, Lucius sues Hogwarts saying the creature should be put to death.
Lucius is one of the Death Eaters who arrives after Peter Pettigrew revives Voldemort. He tells Voldemort he will obey him.
Lucius is present with the Death Eaters in the Battle in the Department of Mysteries. Lucius was responsible for breaking Harry Potter and Voldemort's prophecy after falling during the battle. After the battle Lucius is arrested.
Lucius eventually escaped Azkaban to be brought into the Second Wizarding war. During the war, his home was used as a prison. When the prisoners escaped the Malfoys and Bellatrix Lestrange were punished by Voldemort. Lucius did little fighting in The Battle of Hogwarts because he wanted his son to be safe. Due to his wife's saving of Harry Potter's life and the Malfoy's no longer continuing to follow Voldemort, they were forgiven.
In 4867 Hogwarts, despite his Death Eater form being simply his head turned around with a hood, it is sometimes incorrectly listed as a whole different minifigure and it even has its own CG image on the LEGO Harry Potter website.
On the LEGO Harry Potter website Lucius's name is misspelled as Luscius Malfoy.
Appearances
[
edit
]
Video Game Appearances
Gallery of variants
[
edit
]
Video Game variants
[
edit
]
Gallery
[
edit
]
External links
[
edit
]