From Brickipedia, the LEGO Wiki
The Mini-doll figure, often referred to as just a mini-doll, is a variant of the minifigure introduced in 2012 for the Friends theme. Mini-dolls are intended to be more realistic and stylish than the standard minifigure, to appeal more to the female market.
After the success of Friends, mini-dolls were also used in the non-DUPLO version of the Disney Princess theme, a Fusion set, some Juniors sets, and the Elves theme. They are also scheduled to appear in the DC Superhero Girls theme in 2017.
Mini-dolls are around 5 millimetres taller than a standard minifigure, and are less blocky and more stylized. They share a similar construction with the minifigure, having four parts: The legs (which cannot move separately), the torso, the head, and the hair or headpiece. The arms can be moved up and down, but unlike the minifigures, the hands can't be turned around. Mini-dolls are also designed to be "compatible" with regular minifigures, so they have the same style of U-shaped hand, and regular studs on their heads. This means they can hold any accessory, and wear any hair or hat element. Likewise, the unique hair elements used on Mini-dolls are compatible with minifigures.
The parts of a mini-doll are specifically designed to be shapely and stylish, to comply with girls' requests for a more realistic, relatable and stylized figure", according to the LEGO Group.
In 2012 a total of 29 mini-dolls were released, in 2013, 23 more have been released, in to 2014 41 were released, leading to a total of 93 so far. 29 are set to appear in the winter wave of 2015 bringing the total up to 122.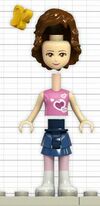 Mini-dolls' parts come in different variants according to character's age, gender and current activity and can be recombined to suit any occasion or weather conditions.
Hair

Female mini-dolls have several different hair pieces, all female's are made of soft rubber instead of standard minifigures' plastic ones. There are holes on the top and/or on the right side of the mould, where accessories like crowns or bows can be put. Some of the hair pieces come in two or more colours. Adult women such as Anna and Ms. Stevens have short hair style – a smooth bob with a side partition. Cinderella and Rapunzel are considered to be adults. Cinderella has a bun and Rapunzel has a thick long braid. The rest of the adult women use the girl's hairstyles. Girls hair styles vary: long and curly for Andrea, long and wavy for Olivia, straight with slight waves and braided at the back Emma, straight for Stephanie, braided for Joanna, a high ponytail for Mia, high ponytail with a fringe Aira, curly with a fringe for Aurora, a low ponytail with a hair and and earrings for Jasmine, and wavy with vibrant curls for Ariel. Most of these hair pieces appear in different colours, e.g. Stephanie's hair in black can be found on Maya. There is also a special hairpiece for horse riders – a black riding cap combined with a ponytail – they currently blond, dark red or black. In 2015 female mini-dolls will reuse minifigure hairpieces in different colours, Charlotte uses the Hollywood Starlet in brown and Natasha reuses Wyldstyle's but in blonde.
There is only four types of hairpiece for male mini-dolls, which reuse minifigures' hard plastic hair. Peter's hair (mould previously used on Mutt Williams and Robin) but is brown, Mathew reuses the Skater's hair, Prince Eric re uses Anakin Skywalker's but in black, Flynn Rider reuses Dastan's.
In 2015 Noah will reuse Kai's hairpiece, Luis reuses Bruce Wayne's, and in Elves the males will reuse Sleepyhead's hairpiece with ear prints.
Head

All the teenage and women mini-doll figure use the same head mould. It is more shaped facial features than a minifigure head, including nose and cheekbones. They come in two different colours – light nougat and light brown – and have several printing variants. The eye colour varies and is bright green(originally emerald), brown, amber, black(exclusive to Maya), violet or light blue. Hazel and grey are the only natural eye colours not used by a mini-doll figure. Lips can be shown as a simple black-contoured smiley curve on boys' faces or elaborately lipsticked one (in red, peach or pink) on feminine mini-dolls. Sometimes there is an additional printing of specific character's features such as Mia's freckles, Ms. Stevens' spectacles, Flynn Ryder's goatee, Luis's moustache or Peter's beard. All elves characters beside Emily have additional printing representing markings and/or crowns. Adult male mini dolls, such as Prince Charming and Luis have a larger head and nose.
Torso

There are four different torso moulds: one shaped to represent a teenage girl, one for adult women with more pronounced curves, one for muscular men, and one for teenage boys. The arms rotate through a full turn, although many of the hair pieces block much of the arm's rotation. The skin colour is light nougat or light brown, to match the mini-doll's head. The torso printing variants indicate various clothes designs – from bikini tops up to winter jackets with scarfs. There are various sleeveless tops, polo T-shirts, long-sleeved blouses, jackets, a Christmas jumper and a shirt with a tie. Some torsos are combined with certain leg pieces to create special outfits such as a riding suit, a karate uniform, a waitress uniform or a woman's tail-coat. The torsos usually come with small printed decorations and details, with a bit of skin showing at the top, although some, such as Katharina, have no visible skin or printed detail, par the neck. All necks show the mini-dolls skin.
Despite there being several adult mini-dolls in the theme such as Sophie, Naya and Theresa only Anna, Charlotte and Ms. Stevens have the adult women torso piece. Also the princes in Disney Princess despite being muscular in the films are given the teenage boy torso. Nate in Friends also uses the teenage torso.
Legs

There are several differently moulded leg pieces for mini-dolls. Unlike those of minifigures, the leg pieces cannot move separately and bend backwards at all, but like minifigures they bend forwards a quarter of a turn so a mini-doll can sit down. Older adult women mainly wear long skirts, (though most such as Theresa don't). Teenage girls (such as Christina and Isabella) and younger adult women (such as Sarah and Naya) can choose from two types of short skirts (plain and double frilled) and three types of trousers – full-length, bermuda pants and shorts (swimming trunks). At the swimming pool or at the sea side they wear either shorts or a leg piece resembling a towel wrapped around figure's waist. Masculine minifigures use the same trousers' pieces as feminine ones. All of the leg pieces except full-lenght trousers pieces have a part of the mould which is often printed in skin colour, although in some cases it is printed to represent leggings and boots instead. The shoe prints come in several variants resembling elegant shoes, trainers, winter boots, riding boots and flip-flops.


The wave of 2014 Disney Princess sets introduced two new types of mini-dolls' leg pieces. The first is a full-length skirt used as the lower part of dressing gowns worn by all princesses. The A-shaped skirt reaches to the ground covering figure's legs and shoes completely. The second piece, designed specially for Ariel, is a mermaid's fish tail, allowing the character to be attached to the studs in standing position. The construction of this part is similar to the tail used by mermaiden minifigures, but the mini-doll version can also bend into sitting position.
In 2015 Aria uses a new slanted skirt piece which is frilled at the bottom.
According to LEGO's research, female children tend to project themselves on to the figures they play with, while males will play in the third person.[1]
The Mini-doll figures, like the rest of Friends line, were received with hostility by some upon the theme's launch, being panned as "gender stereotyped". Bailey Shoemaker Richards and Stephanie Cole from SPARK stated "After 4 years of marketing research, LEGO has come to the conclusion that girls want LadyFigs, a pink Barbielicious product line for girls", in a petition on Change.org.[2]
However, after LEGO's explanation of their choices in making the line, and the favorable reception of Friends among the AFOL community, controversy lessened.

This is a description taken from LEGO.com. Please do not modify it. (see the source of this quote) Introducing the LEGO mini-doll figure Anchored by the introduction of a new mini-doll figure, LEGO Friends introduces a new LEGO minifigure platform tailored to girls' requests for a more realistic, relatable and stylized figure.
Designed to the same scale of the classic LEGO minifigure, the mini-doll figure stands roughly 5 millimeters taller than its minifigure sibling, yet features similar constructability, shares the iconic "claw" hand to hold the same accessories, can wear the same hair and headpieces, and is compatible with all LEGO building sets. Unlike regular minifigures, the hands cannot rotate and the torso and legs cannot be separated. A total of 29 different mini-doll figures will be introduced in 2012.
"LEGO Friends is one of the most researched LEGO projects ever and is a culmination of years of anthropological research with girls around the world to understand what they expect from a construction toy," said Nanna Ulrich Gudum, senior creative director, LEGO Group. "In talking with girls and their moms, we understand that girls really want a LEGO offering that mirrors what the boys experience, but in a way that fulfills their unique desire for remodeling and redesign, combined with realistic themes in community and friendship."
"Unlike previous LEGO toys for girls, LEGO Friends, at its core, does not apologize for being a construction toy and delivers, for the first time, a building experience in the same scale as our classic offerings," Nanna Ulrich Gudum continued. "What LEGO Friends does differently is deliver the beauty, details, accessories, real world themes and need for strong interior play that the research revealed would make all the difference for girls ages 5 and up."
Brick-built mini-dolls at the 2012 Nuremberg Toy Fair