From Brickipedia, the LEGO Wiki
Batman

Box

Set

Item №:

4526

Pieces:

40

Price:
$14.99
€14.99
£10.99
$22.99

Additional prices:

$29.99

Ages:

6 - 12

Released:

December 20, 2011/January 2012

Theme:

Batman is a DC Comics Super Heroes set released on December 20, 2011 in some places, and January 2012 in most. It contains an Ultrabuild model of Batman.
Batman is made primarily of black, but with blue and Metallic Dark Grey armour.

Batman has blue feet, which attach into a leg part armoured with blue. These in turn attach to the hips, which are armoured in Metallic Dark Grey. The hips attach to the front portion of the body, which is armoured with a Metallic Dark Grey chest plate. Attached to the upper portion of the chestplate is a blue breastplate, with Batman's logo printed on it in a yellow circle. Attached to the back of Batman's body is a second body element. Batman's mechanical wings are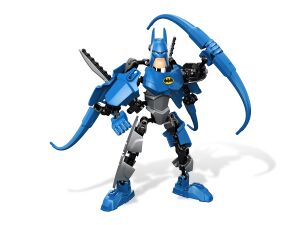 attached to the second body's arm nobs, and consist of a single piece each, with two large blue spikes attached to either one in place of proper wings. Batman's arms are armoured entirely in blue, and have blue hands. One of his hands holds black spear-like weapon, with a Metallic Dark Grey blade section.

Batman's head, attached directly above the shoulders of the original body piece, is made of a single moulded element showing his face, as obscured by his mask.
Batman, defender of Gotham City, is, in this set, wearing a mechanical power suit, to help him track down the Joker (who is also in a power suit).

This is a description taken from LEGO.com. Please do not modify it. (visit this item's product page) Power up LEGO® Batman™ to take on the villains of Gotham City!
With his all-new powered-up suit, LEGO® Batman™ uses his detective skills to track down his arch enemy, The Joker™. Combine the swords to make a larger sword! Then power-up Batman's lightning-fast martial arts abilities to put The Clown Prince of Crime back behind bars where he belongs!
Features buildable LEGO® Batman™ with a powered-up suit and 2 swords
Customize your model using the flexible building system!
Combine the swords!
Build bigger figures with the exclusive high friction joints!
Combine with 4528 LEGO Green Lantern™ for an even bigger Batman™
Collect all of the LEGO DC Universe characters: 4527 LEGOThe Joker™ and 4528 LEGO Green Lantern™
Stands over 8" (20cm) tall