853433 Wonder Woman Key Chain
From Brickipedia, the LEGO Wiki
Wonder Woman Key Chain

Item №:

853433

Pieces:

1

Price:
$4.99
€3.99
£2.99
$6.99

Additional prices:

$5.49

Ages:

6+

Released:
Theme:

853433 Wonder Woman Key Chain is a Super Heroes DC Universe Key Chain released in 2012, featuring Wonder Woman.
Wonder Woman has new hairpiece, which shows her signature golden tiara with a red star in the middle and sleek, black hair. The sliver chain portion of the key chaine comes out of the top of her head. Her face has black eyebrows, eyelashes, and red lipstick. Her head is double sided: one side depicts her smiling and the other depicts her as angry.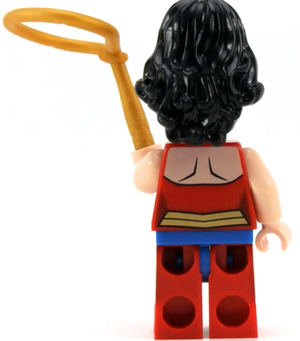 Her torso is mainly red, and is printed to represent both her costume and feminine curves. The costume covers most of her torso, though some skin is visible near the top. At the top of the costume is a golden "W", and there is a similar design near the bottom. On the back of her torso, the feminine curves are also present, as well as markings depicting her shoulder blades. The area below these shoulder blades is where the costume starts again. It follows the same design as on the front, except there is no golden "W" at the top. In addition to her red torso, she has flesh-coloured arms and flesh-coloured hands. Her legs appear to be flesh-coloured, as that is the colour that appears primarily on the front, but they are in fact red with printing. Her hips, on the other hand, are blue. The legs are printed to depict blue, starred tights and her red boots at the bottom. The boots also have white arrows, which face upwards, decorated on. The remaining area of the front of her legs is flesh-coloured to depict her skin, while the back of her legs are red, having been given no printing.

This is a description taken from LEGO.com. Please do not modify it. (visit this item's product page) Take truth and justice everywhere with Wonder Woman!
Pack the pride of Paradise Island with an authentic LEGO® Super Heroes Wonder Woman minifigure! This classic comic heroine comes attached to a sturdy metal ring and chain for attaching to your keys or backpack! Makes a great gift for LEGO Super Heroes fans!
Features authentic LEGO® Super Heroes Wonder Woman minifigure attached to a sturdy metal ring and chain
Attach to your keys or backpack!
Minifigures are not detachable from metal chain
Makes a great gift for fans of LEGO Super Heroes building sets!