From Brickipedia, the LEGO Wiki
Skull Motorbike

Item №:

2259

Pieces:

157

Minifigures:
Price:
$14.99
€14.99

Additional prices:

$29.99

Ages:

7 - 14

Released:

January 2011

Theme:
2259 Skull Motorbike is a Ninjago set released in January 2011. The set includes Jay and Chopov minifigures.
The Skull Motorbike is predominantly black and white in colour, and as can be expected, has two wheels- a large one at the back of the bike with a smaller, thinner one at the front. Attached to the back wheel are two grey exhausts (one on each side), with large flames coming out of them. In front of the back wheel is an area for a minifigure to stand. On the right-hand side of the driver's area is a lever, which when pulled back, pulls a dark grey chain back, which is attached to a rod built from Technic piece that has a brick-built white skull with transparent eyes mounted at the top. This in turn makes the skull fall forward, just in front of the front wheel, meaning that the skull can hit anything in front of the bike.
In addition to the motorbike, the set includes two minifigures- Jay in his original robes and wielding the Golden Nunchucks of Lightning and a black katana, and Chopov with a bronze-bladed bone-axe and black helmet. This particular version of Chopov with his helmet is exclusive to this set.
Spoiler warning: Plot or ending details follow.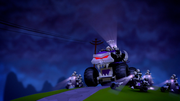 The Skull Motorbikes were created by Dr. Julien by order of Samukai for the Skulkin army. Several of them appear in "Way of the Ninja" as the primary transport vehicle for the Skulkin when they attack Four Weapons.
They appear again in "King of Shadows" as the Skulkin make their getaway with the Golden Weapons.
Spoilers end here.

This is a description taken from LEGO.com. Please do not modify it. (visit this item's product page) Battle Chopov to retrieve the nunchucks of lightning!
Chopov is escaping on his Skull Motorbike with the nunchucks of lightning and Sensei Wu has sent Jay to stop him. Can he use his new-found skills to avoid the Skull Motorbike's Ninja swat defense and retrieve the nunchucks? Set features 2 minifigures, 3 weapons and Skull Motorbike with realistic details.
Includes 2 minifigures: Jay and Chopov
Features Skull Motorbike, nunchucks of lightening, black sword and bone axe
Shoot flames from the Skull Motorbike's tailpipes!
Battle for the nunchucks of lightning!
Skull Motorbike features cool details and chain link elements!
Skull Motorbike is over 11" (28cm) long