From Brickipedia, the LEGO Wiki
Skull Truck

Item №:

2506

Pieces:

515

Minifigures:
Price:

$59.99
€59.99
£45.99
$99.99

Ages:

8 - 14

Released:
Theme:
2506 Skull Truck is a Ninjago set that was released in 2011.
The set contains a four-wheeled truck, which has several weapons and features. The skull depicted at the front of the truck can open and close it's mouth by pressing down on the vehicle, meaning it is able to make a biting action. A "bone fist" is mounted at the top of the truck, and is able to be fired due to a mechanism using rubber bands. The truck also features two detachable cages, which can hold a minifigure, and prevents them from falling out. This set includes a total of four minifigures- Jay with the Golden Nunchucks, Zane with a brown spear, Wyplash with a bone axe, Lord Garmadon with his lightning weapon.
The TV Series version of this truck is very different. It has ribcages on the sides and the back has a box with broken bones. Also, the grabber has four bone fingers connected to a chain. The launcher has spikes coming out from the side. The driving seat feature not only has a steering wheel, but also has a lever and speedometer the side mirrors are bigger, and connected by bones. The lights are connected by bones on the bottom and the one on the right is cracked and does not work. The bottom of the mouth on the face in the front has a large bone under it. The ribcages closer to the back of the truck have three spikes facing upward. They have chains around them crossed in X-formation and the one on the right is extra long and has part of it hanging off to the back. The ribcages closer to the driving seats have two smaller spikes also facing upward and have a bone going across near the middle of them to keep them connected. When going at full speed the trucks tips backward, often causing passengers to fly out. Because of the friction of the wheels and ground, the tracks of the wheels leave singing flames on them.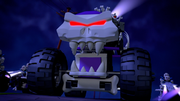 The Skull Truck was created by Dr. Julien by order of Samukai for use as the Skulkin's flagship vehicle. It appears in "Way of the Ninja" operated by the skeleton leader himself and accompanied by Kruncha and Nuckal when they attack Four Weapons.

This is a description taken from LEGO.com. Please do not modify it. (visit this item's product page) Take on the Skull Truck and retrieve the Nunchucks of Lightning!
Lord Garmadon and Wyplash have stolen the Nunchucks of Lightning and are escaping in the Skull Truck. Jay and Zane have been sent to stop them. Help them to dodge the Skull Truck's mighty bone fist and powerful jaws! Includes 4 minifigures with assorted weapons!
Includes 4 minifigures: Jay, Zane, Lord Garmadon and Wyplash with assorted weapons
Skull Truck features moving jaws, firing bone fist and 2 cages
Also includes Nunchucks of lightning, thunder bolt, bone axe and spear
Aim and fire the bone fist!
Battle on any terrain with huge rubber tires and realistic suspension!
Snap the jaws of the skull face closed with the Skull Truck's suspension system!
Trap your enemies in the bone cages!
Measures over 7" (17cm) wide, 9" (22cm) long and 7" (17cm) tall