Invizable
From Brickipedia, the LEGO Wiki
This article is in need of an update. Once the required information has been added (listed below), this template may be removed.
Content that needs to be updated:


Ninja Roll
"That pale man- a distant relative to the to the Master of Light. Watch closely, see how he's stayed hidden all these years"
―Garmadon to the ninja as Invizable uses his powers to vanish.
Invizable is an Ultra Agents minifigure released in 2015. He also appears as a character in the fourth season of Ninjago: Masters of Spinjitzu as The Pale Man, an Elemental Master of Light.
Background
[
edit
]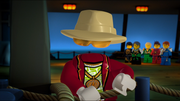 Invizable can be seen among the attendants to the Tournament as they get onto the ship. While the Ninja are aboard the ship with Sensei Garmadon, they see Invizable looking out into the ocean. Garmadon explains that Invizable is a distant relative of the Elemental Master of Light as Invizable uses his powers to vanish.[1]
Invizable was present at Chen's announcement on the island, and was seen fighting with other participants for the Jadeblades. Cole managed to find one, although Invizable vanished and stole it from the ninja of earth. However, Cole used dust to put Invizable clear into view, and stole the blade back. Invizable managed to find another, however, as he was seen with everyone else who brought one back to Chen.
He was later seen asking the Ninja if he could sit with them, but Jay immediately told him to go away. A smug Cole told him it was rude, but the Ninja of lightning said he couldn't trust anyone. [2]
In Ninjago: Masters of Spinjitzu, he is voiced by Kirby Morrow.
Appearances
[
edit
]
TV Appearances
[
edit
]
References
[
edit
]
Gallery
[
edit
]