Jacob Pevsner
From Brickipedia, the LEGO Wiki
This minifigure has only appeared in television episode(s)
Although this article is about an official minifigure, it never existed in physical form, or appeared in any official LEGO sets.
"My name's not Mr. Blind Guy. It's Jacob. And you may have already lost hope, but not me."
―Jacob to Karlof
Jacob Pevsner[1] is a Ninjago minifigure who appears in the fourth season of Ninjago: Masters of Spinjitzu.[2] He is an Elemental Master of Sound.[3]
Background
[
edit
]
Spoiler warning: Plot or ending details follow.
Jacob is descendant of the original Elemental Master of Sound and was one of the Elemental Masters invited to Master Chen's Tournament of Elements. He accepted and met up with the other elemental masters at the New Ninjago City pier where Clouse greeted them.[2] Whilst aboard the ferry on route to Chen's island, Jacob played his stringed instrument to pass the time.[2]
Once on the island, Jacob was lead with the other masters into the main hall where Chen explained the nature of the tournament. When the first challenge began, where the Elemental Masters had to acquire a Jade Blade to reach the next round, Jacob competed with several other Masters including Invizable and Gravis to obtain a specific blade that they had all spotted, but Lloyd eventually managed to secure the blade.[4] However, Jacob did manage to get a blade and move on to the next round.[4]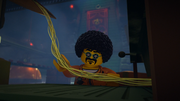 The next day, Jacob was in the chow house with the other elemental masters eating breakfast when Chen announced the day's roster, though he was not included in it. Instead, Jacob was part of the crowd that observed the tournaments and was present when Clouse switched the brackets to pit Cole against Jay.[5]
On the third day of the event, Jacob faced off against Skylor, Master of Amber in the second round, where the first to obtain the single Jade Blade would continue on in the tournament.[3] Although Jacob was blind, he used his instrument so that he could use echolocation to sense the objects around him.[3] Although he held his own against Skylor for some time, Skylor was eventually able to obtain the Jade Blade.[3] Jacob was then sent down to Chen's prison, and like the other defeated contestant, he had his powers taken from him and was forced to work in the noodle factory.[3] Relying on his hearing, Jacob attempted to escape from the prison, but was caught at the door by Clouse, who ordered to Zugu to take Jacob to feed his serpent to make an example of him to the other prisoners.[3]
Spoilers end here.
He is voiced by Paul Dobson, who also voices Sensei Wu.
Most viewers thought that Jacob himself was fed to Clouse's serpent. It was later revealed in Episode 42: The Day of the Dragon that Jacob was forced to feed the serpent, not be fed to the serpent himself.
Appearances
[
edit
]
TV appearances
[
edit
]
Video Game Appearances
[
edit
]
Gallery of TV Series Variants
[
edit
]
Gallery
[
edit
]
References
[
edit
]