7913 Clone Trooper Battle Pack
From Brickipedia, the LEGO Wiki
This article is about the 2011 Star Wars set. For other sets by this name, see Clone Trooper Battle Pack.
Clone Trooper Battle Pack

Item №:

7913

Pieces:

85

Minifigures:
Price:
$11.99
€14.99
£9.99
$17.99

Additional prices:

$14.99

$24.99

Ages:

6 - 12

Released:
Theme:
Instructions:
7913 Clone Trooper Battle Pack is a Star Wars: The Clone Wars set released in January of 2011, but appeared on the LEGO online store and has been sold in Toy "R" Us stores and its website in December.
Minifigures: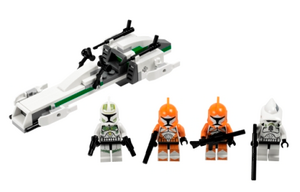 The Bomb Squad Troopers have completely orange molded helmets with white and black printings to resemble the visors. They also have printed legs and other prints on their torsos.
The Clone Commander has green printing with yellow highlights on the helmet and torso. He too has printed legs and other prints on his torso.
The ARF Trooper features a helmet which is a brand new mold. The printed visor is precisely in line with the eyes of the minifigure wearing the helmet. The torso is that of a standard Clone Wars Clone Trooper and so therefore has no extra markings to show rank or battalion to which he belongs to. He is also the only minifigure in the set with no leg printings.
Speeder Bike: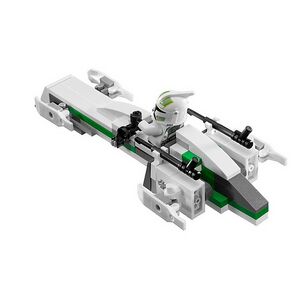 The Speeder Bike is basic in design and is simple to build. It features no rare or unique pieces and uses mostly white, green and grey pieces. There are some flaws though in the design because when a minifigure is sat at the controls if it were to fire at the enemy it would shoot the handle bars off.
BARC Speeders were used by both Jedi and Clone Troopers in the Republic and were often used on reconnaissance missions. One of the Jedi who used a BARC Speeder is Luminara Unduli who drove it on Geonosis while on a reconnaissance mission.

This is a description taken from LEGO.com. Please do not modify it. (visit this item's product page) Unleash the might of the clone army against the Mandalorians!
As the Clone Wars rage across the galaxy, the Army of the Republic faces a powerful new enemy- the Mandalorians! Build up your crack team of clone troopers with the BARC speeder, the all-new ARF clone trooper, 2 new bomb squad clone troopers and the new clone commander minifigures.
Includes 4 minifigures: clone commander, 2 bomb squad clone troopers and 1 ARF clone trooper
Features 5 weapons!
Includes BARC speeder
Move the cannon turret!
BARC speeder measures 6" (15cm) long, 3" (7cm) wide