K10131 Battle of Yavin Collection
From Brickipedia, the LEGO Wiki
K10131 Battle of Yavin Collection is a Star Wars LEGO collection which featured three sets, listed below.
Together, the sets encompass 6 ships and 12 minifigures.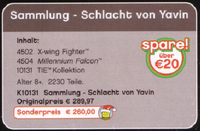 The Battle of Yavin was a major battle of the Galactic Civil War that led to the destruction of the first Death Star and Luke Skywalker's first step to becoming a fully-fledged Jedi. It was one of the Rebellion's first major victories.