Batman
From Brickipedia, the LEGO Wiki
Work in Progress!


A work in progress is being carried out on this page by Berrybrick, and may undergo critical changes while this message remains in place.
As a courtesy, please contact the user before making major edits on this page, but feel free to make minor edits such as spelling corrections.
If this template has been on the page for over one week, it may be removed.

This article is about the minifigure. For other items called "Batman", see Batman (disambiguation).
Batman

Theme:

Variations:

Comics and Cartoons:

Black and grey
Troika
Blue and grey
Black

Beware the Batman
The New 52

Scuba mask
Boots
Dimensions

Live action

1966 TV series
Batman Begins
The Dark Knight
The Dark Knight Rises (Black)
The Dark Knight Rises (Grey)
Batman v Superman

Super suits and novelty variants

Arctic suit
Desert suit
Electro suit
Gas mask
Scuba suit
Space suit
Pirate

LEGO movies

No cape (TLM)
Expressive (TLM)
Head 1 (TLBM)
Head 2 (TLBM)
Head 3 (TLBM)
Head 4 (TLBM)
Wings (TLBM)
Bat Pack suit
Raging Bat suit
Scu-Bat suit
Clan of the Cave
Glam Metal
Fairy
Lobster Lovin'
Vacation
Disco
Tears of the Batman
Excalibur Batman
Tartan
Tiger tuxedo

Mighty Micros

Other

Microfigure
DUPLO (blue)
DUPLO (black)

See also:

Accessories:
Years:
[List of appearances]
---
"We're winging it. It's a bat pun."
―Batman in The LEGO Movie
Batman (Bruce Wayne) is a popular DC Comics character who has spawned inspiration for a myriad of sets, minifigure variants, and other LEGO products and media, including a series of video games and a theatrical movie. Originally released in 2006 as part of the eponymous Batman theme, Batman has since featured in sets from DC Comics Super Heroes, The LEGO Movie, Dimensions, The LEGO Batman Movie, DUPLO, and Juniors. Over this expansive collection of sets, Batman has also brought along LEGO versions of his allies in the Bat Family and Justice League plus many of the villains who compose his Rogues Gallery, from famous archenemies such as The Joker and Mr. Freeze to obscure foes like King Tut and Polka-Dot Man.
Will Arnett voices Batman/Bruce Wayne in The LEGO Movie and The LEGO Batman Movie. Troy Baker voices Batman in the LEGO DC Comics Super Heroes line of direct-to-DVD movies as well as in LEGO Batman 2: DC Super Heroes, LEGO Batman 3: Beyond Gotham, and LEGO Dimensions; the latter of which sees his version of Batman interact with Will Arnett's. On the difference between the classic DC Comics Batman and LEGO Batman, The LEGO Movie co-directer Chris Miller said, "[Batman] is a little bit more egotistical and self-involved than other stuff we've seen him in. But in the end, he's still a hero and does the right thing and is a badass."[1]
Description
[
edit
]
Batman minifigures use a special cowl mould which come in two varieties: long ears and short ears. The long-eared type was introduced on the first Batman minifigures and remolded in 2012 with sleeker ears. The short-eared version was first released in 2015 and has been used predominantly in the Super Heroes theme since. All cowls fit on a minifigure's head so that the eye-holes actually show through to the minifigure's forehead. To achieve the white "comic book" eye effect, the minifigure head underneath is printed with a headband or a pair of goggles which will line-up with the cowl's eyes. Batman figures based on the character as depicted in The LEGO Movie and The LEGO Batman Movie represent Batman's exaggerated personality by printing cartoony eyes on the headband to pair with zany facial expressions underneath. The short-eared cowl version does not have a moulded chin strap as the long-eared one does, so Batman figures using it tend to have their face printed on a head which matches the cowl colour, typically resulting in Batman's skin tone being darker than the usual light nougat.
Generally, Batman's colourscheme will contrast the black or earth blue cowl, cape, gloves, and sometimes trunks and boots with the lighter spandex/armour underneath, though sometimes every part is black. Even in these instances, the bat-symbol and utlity belt will usually be bright or metallic to provide some colour. This is mixed-up on novelty and "Super Suit" variants which generally use brighter colourschemes, but the cowl and cape are still typically darker than the rest of the costume.
Additionally, Batman will also have a scalloped cape which fits around his neck. This is sometimes swapped for a jetpack which imitates a pair of bat wings. A bat-symbol will be printed on his chest and a utility belt above his waist. Minifigures from the The LEGO Batman Movie line generally use special piece for the belt in place of printing. A muscular pattern adorns most comic and cartoon based figures whilst some live-action versions, particularly those based on The Dark Knight Trilogy, opt for an armoured look.
The Batman figures included in the Mighty Micros line, like The LEGO Movie versions, include zany facial expressions, but go even further in creating a cartoony look by simplifying the printing to nothing more than an enlarged bat-symbol and blocky belt and replacing the regular full-sized legs with smaller legs used for short characters like Yoda and The Penguin.
Batman has also been released as a DUPLO figure in different coloured variants and as a LEGO Games microfigure.
Batman has used numerous accessories over the years, but the most common are a batarang and a grapple gun.
In the video games
[
edit
]
Batman first appears in LEGO Batman: The Videogame where he has only one variant, identical to the black and grey variant from the original Batman theme. He is, however, able to change into a total of four Super Suits which grant him extra powers. Batman's abilities in each of these costumes are:
Target batarang
Use grapple
Touch and manipulate red hot LEGO objects (Heat Suit)
Throw a flaming batarang (upgrade Heat Suit)
Glide (Glide Suit)
Shatter glass bricks (Sonic Suit)
Summon bats (upgraded Sonic Suit)
Repel enemies (upgraded Sonic Suit)
Destroy silver LEGO objects (Demolition Suit)
Deflect bullets (upgraded Demolition Suit)
In LEGO Batman 2: DC Super Heroes, Batman is upgraded to match his black Super Heroes suit. Portable versions also make his "Classic" variant playable. Batman's abilities, including those granted by new Super Suits, include:
Target batarang
Use grapple
Super strength (Power Suit)
Destroy silver LEGO objects (Power Suit)
Invisibility (Sensor Suit)
X-ray vision (Sensor Suit)
Immune to electricity (Electricity Suit)
Transfer electric charge (Electricity Suit)
Glide (Bat Suit)
Destroy glass (Bat Suit)
Stun enemies (Bat Suit)
LEGO Batman 3: Beyond Gotham expands Batman's collection of playable costumes through the basic game. These include a regular Batman (with costume based on The New 52), a Joker disguise, 1966, and Darkest Knight. Various DLC packs add The Brave and the Bold, The Dark Knight Returns, Detective Comics 27, Gotham By Gaslight, Sinestro Corps, Vampire, Zebra, The Dark Knight Trilogy, and Rainbow. Additionally, Batman now has seven new and returning Super Suits. Azrael, Batman Beyond, Batzarro, and Batman of Zur-En-Arrh versions are covered on their respective pages. Abilities are:
Target batarang (unless version has a gun)
Grapple
Glide (unless version can fly, is a big fig, or has no cape)
Freeze water (Arctic Suit)
Put out fire (Arctic Suit)
Transfer electric charge (Electricity Suit, 1966)
Destroy silver LEGO objects (Power Suit, 1966)
Invisibility (Sensor Suit, 1966)
X-ray vision (Sensor Suit, 1966)
Detect hidden objects (Sensor Suit, 1966, Detective Comics 27, Gotham By Gaslight, The Dark Knight Trilogy, Rainbow)
Destroy glass (Sonar Suit)
Destroy gold LEGO objects (Space Suit)
Lantern Constructs (Darkest Knight, Sinestro Corps)
Shield (Darkest Knight, Sinestro Corps, Vampire)
Dig (Darkest Knight, Sinestro Corps)
Flight (Space Suit, Darkest Knight, The Brave and the Bold, Sinestro Corps, Vampire)
Interact with technology (The Brave and the Bold, Detective Comics 27, The Dark Knight Trilogy)
Mind control (Vampire)
Regenerate hearts (Vampire)
Magnetic (Zebra)
Big fig (The Dark Knight Returns)
Additionally, Batman is also playable in The LEGO Movie Video Game and the crossover LEGO Dimensions which features both the regular and TLM/TLBM versions of Batman. In The LEGO Movie Video Game Batman has his same appearance as LEGO Batman 2. He can:
Target batarang
Glide
Master build
In LEGO Dimensions, Batman is appears in his New 52 costume for the DC Comics franchise, available in the starter pack, and The LEGO Batman Movie's knight-themed "Excalibur Batman" suit. A skin based on The LEGO Batman Movie for the New 52 Batman is also unlockable. Batman's abilities include:
Target batarang
Grapple
Invisibility
Deflect laser (Excalibur)
Detective Mode (The LEGO Batman Movie)
Glide (DC Comics, The LEGO Batman Movie)
Master build (Excalibur, The LEGO Batman Movie)
Merch Gun (The LEGO Batman Movie)
Rope swing (Excalibur, The LEGO Batman Movie)
Super strength (Excalibur)
Sword switch (Excalibur)
Background
[
edit
]
As a young boy, Bruce Wayne witnessed the murder of his socialite parents parents by a mugger. Motivated to put an end to crime in Gotham City by this occurrence, Bruce traveled the world under pseudonyms to gain training from martial artists, scientists, magicians, and detectives to gain the skill set he would need. Returning home and still without a sense of direction about how he can save Gotham, Bruce is inspired as a bat flies through a window and interrupts him while he is in a moment of despair to become a vigilante known as Batman which will become a figure to frighten cowardly criminals.
While Batman begins fighting petty criminals like the mugger who killed his parents and organized crime, he amasses a handful of allies in honest police officer Jim Gordon, district attorney Harvey Dent, and businessman Lucius Fox who manages Bruce's company while supplying him with a massive arsenal of gadgets. However, at least at first, Batman's secret identity is known only to his butler Alfred Pennyworth, who raised Bruce after the death of his parents and continues to support him. Though Fox supplies him with a massive arsenal of gadgets and vehicles, Batman refuses to use a gun like the mugger who killed his parents, but keeps the one which was used to shoot them on hold to remind them why he chose to become Batman.
Soon, the more common criminals begin to fade and give rise to a wave of super-villains. Batman amasses a Rogues Gallery of colourful and gimmicky villains such as the now hideously scarred Harvey Dent, nicknamed Two-Face; The Riddler, who challenges Batman's intellect rather than his strength; Genocidal utopian immortal Ra's Al Ghul; the seductive eco-terrorist Poison Ivy; Gotham's "Gentleman of Crime," The Penguin; and Batman's terrorist-prankster arch-enemy The Joker. However, just as the Bat strikes fear into criminals, Batman becomes an inspiration for other Gotham vigilantes such as Robin, Batgirl, Nightwing, Catwoman, and Red Hood, gaining himself more allies (and in the case of Catwoman and Red Hood sometime enemies) in his war on crime. Batman is typically most involved with Robin, a mantle taken by a boy who has proven himself as Batman's protege; the current Robin, Damian Wayne, is Bruce's son with Ra's Al Ghul's daughter Talia.
Batman also becomes an integral part of the DC Universe at large as a founding member of the Justice League and, except for when friendly rival Green Arrow joins the team, often the only unpowered member. Other members of the League include Superman and Wonder Woman, a pair of heroes who Batman considers (but will not always admit) are friends, as well as Martian Manhunter, Aquaman, The Flash, Cyborg, Green Lantern, Black Canary, Hawkman, Hawkgirl, and Zatanna.[2] Membership with the League has put Batman into conflict with villains such as Sinestro, Gorilla Grodd, and Darkseid who are much more powerful than the type he usually faces in Gotham, but through a combination of gadgetry and extensive planning, Batman is always able to come out on top. Though they are removed from his duties to the League and in Gotham, Batman has also mentored other young heroes such as Blue Beetle and Supergirl.
In a possible future, Bruce passes the Batman mantle onto teenager Terry McGinnis, who defends a technologically advanced Gotham City from old and new villains.
In the video games
[
edit
]
LEGO Batman

[

edit

]
After a mass breakout from Arkham Asylum, Batman and Robin must bring fifteen villains to justice. Together, they stop The Riddler, Two-Face, Poison Ivy, Mr. Freeze, and Clayface from robbing the Gotham Gold Reserves. Then, they prevent The Penguin, Catwoman, Bane, Killer Croc, and Man-Bat from sieging the city with an army of Penguin Minions. Finally, they rescue Commissioner Gordon, defeat Harley Quinn, The Scarecrow, Mad Hatter, and Killer Moth and save the city from The Joker's laughing gas.
LEGO Batman 2

[

edit

]
Bruce Wayne's Man of the Year award is stolen by The Joker. After Joker is defeated by Batman and Robin, Superman arrives late to offer help, to Batman's annoyance. Soon thereafter, Martian Manhunter alerts Batman of another mass breakout from Arkham. While Batman and Robin roundup the escaped criminals, they realize that Joker is missing and conclude that he was broken out by Lex Luthor. Looking for Joker, Batman and Robin investigate Ace Chemicals, but Joker has already gone and left with the chemicals required to create synthetic Kryptonite. A fire starts, trapping the Dynamic Duo, but they are rescued by Superman. Despite this, Batman still refuses to involve him. Batman and Robin infiltrate a LexCorp Juggernaut to steal the synthetic Kryptonite at the cost of Joker destroying the Batmobile, but further analysis reveals that it is harmless. As Batman locks it up with the rest of his Kryptonite as a contingency in case Superman turns evil. However, a tracking beacon on the fake Kryptonite allows Joker and Lex to infiltrate the Batcave, resulting in the destruction of the Bat-bike, Batwing, and Batboat are destroyed. As the villains steal the real Kryptonite, they plant bombs to destroy the Batcave. At last, Batman concedes to Robin's suggestion that they call Superman to rescue them. Together, Batman and Superman head to LexCorp while Robin stays behind to repair the damaged vehicles.
While at LexCorp, Batman and Superman discover a large Joker-esque robot en route to Gotham, designed to emit an mind-altering gas which Lex and Joker will spread over the United States convincing people to elect Lex president. Batman and Superman try to destroy it before it can reach the city, but Lex weakens Superman with Kryptonite. As Superman slowly regains his strength, they are swatted at by the robot and forced underground into the metro. Making it past Joker to City Hall, Superman destroys the gas-emitting flower on the robot, foiling Lex and causing the robot to go on a rampage.
As Superman fights the robot, Robin arrives in a multi-coloured Batmobile immune to Lex's technology. The robot chases Batman and Robin through the city, Batman driving so that the trail of Kryptonite the robot leaves behind resembles Joker's face in an image large enough to be seen from the Justice League Watchtower. Realizing what this means Martian Manhunter calls Wonder Woman, Green Lantern, The Flash, and Cyborg to Gotham. As the robot destroys Wayne Tower's foundation as Lex decides to get his revenge on Bruce Wayne for winning the Man of the Year award, Superman and Wonder Woman keep it in place as Batman, Robin, GL, Flash, and Cyborg attack the robot and knock it from the top of the building.
With Wayne Tower safe, Superman collapses under the strain of exerting himself while still weak. Together, the rest of the Justice League (and Robin) defeat Joker and Lex. In the end, Batman is forced to admit that the combined threat of Joker and Lex was too much for him and Robin to vanquish alone.
As they make their ways through the sewers to find Killer Croc, Batman teaches Robin to overcome his emotions before they get in the way of their crimefighting. After Croc gets away, the Dynamic Duo return to the Batcave where Batman discovers a strange object in the sky and shortly thereafter loses control of himself, attacking Robin and Alfred. Batman regains himself just as Robin delivers a heartfelt speech begging him to remember their partnership but Batman refuses to acknowledge that this is what saved him, instead explaining that it was the result of an electric shock.
Shortly thereafter, Batman discovers what became of Killer Croc as a distress signal from Martian Manhunter informs them that a team of super villains composed of Croc, The Joker, Lex Luthor, Cheetah, Solomon Grundy, and Firefly calling itself the Legion of Doom has infiltrated the Watchtower. Batman and Robin head into outer space where they meet with Superman, Wonder Woman, The Flash, and Cyborg and manage to retake the Watchtower, defeat the villains, and rescue Green Lantern and The Martian. However, a greater threat soon emerges as the source of Batman's mind control reveals himself to be Brainiac, a super-intelligent alien android who is planning on harnassing the power of the Lantern Corps to shrink the Earth and add it to his collection. Brainiac takes control of Green Lantern in the same way he had Batman, and then adds GL to his collected Lanterns.
To save GL and the Earth, the Legion of Doom proposes an alliance with the Justice League. They combine forces. Together, they inflitrate Brainiac's ship and take control of it before he is able to shrink the Earth entirely. As Brainiac escapes, Batman, Superman, and Wonder Woman chase him back to Earth and through a mini-scaled Europe as he shrinks London, Paris, and Pisa for his collection. When Brainiac is at last cornered in Gotham by the rest of the League and the Legion, Batman, Robin, Wonder Woman, Green Lantern, and Solomon Grundy head to the home planets of the Red, Orange, and Yellow Lantern Corps to retrieve power batteries from Atrocitus, Larfleeze, and Sinestro and undo the damage Brainiac has done to Earth. Each of these Corps proves to be hostile and stealing the power battery requires force and trickery.
Once they have collected all six batteries (the friendlier Saint Walker, Star Sapphire, and Indigo-1 having agreed to help the League, unlike the other Lanterns), Batman and the others arrive at the Fortress of Solitude where the Lanterns will combine their rings and resize the Earth, turning Superman into a giant as a side-effect. While Flash reports that Brainiac and his ship have escaped, Brainiac appears at the Fortress to announce that he has stolen Gotham and Metropolis and to promptly take control of the giant Superman. With the Legion fleeing and most of the League incapacitated, Batman remembers how the shock had recsued him before. Together, he, Robin, Wonder Woman, and Flash to construct a generator to save Superman. When this fails, Batman realizes that Robin was right about the speech and breaks through to Superman by admitting what their friendship means to him. As Superman regains control of himself, he destroys Brainiac's ship and puts the android into prison.
Batman, Superman, and Wonder Woman then appear at the White House to stop Lex's "presidency" and put the Legion back into prison where a shrunken Brainiac is put in a jar and tormented by Joker and Lex as their new cellmate.
LEGO Dimensions

[

edit

]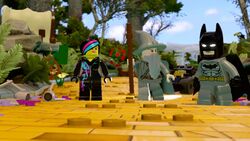 When Robin, Metalbeard, and Frodo are kidnapped by the evil Lord Vortech, Batman, Wyldstyle, and Gandalf follow the villain through a portal, meet each other, and discover the void inbetween the dimensions which compose the LEGO Multiverse. With help from X-PO, they retrieve the portal's keystones to bring it to full functionality while they battle with Vortech and the villains he has recruited. Along the way, Batman and his allies also team-up with The Doctor, Scooby-Doo and Mystery Inc, the '84 Ghostbusters, and GLaDOS to stop Vortech from collapsing spice and time into a single universe under his control.
Batman is Wyldstyle's boyfriend and a Master Builder. He saves Wyldstyle and her friends from a deadly fall during a fight with Bad Cop. Batman rebuilds Bad Cop's car into a baby carriage, delaying his pursuit of the heroes. Together, Batman joins the rest of the heroes in journeying to Cloud Cuckoo Land, where they are once again attacked by Bad Cop. They escape in a submarine (Batman taking the credit for this idea, despite the fact that Emmet came up with it), but the submarine eventually breaks apart on its own, the Master Builders' conflicting styles causing it to be unstable. They are picked up by Metalbeard in his Sea Cow, and on the ship, the group plans how to infiltrate Lord Business's office tower. Forced by Emmet to follow instructions along with the other Master Builders, Batman joins the group in succeeding. As part of the plan, Batman dons his Bruce Wayne persona to convince Lord Business to add speakers to his doomsday Kragle device, which allows Emmet and Wyldstyle to infiltrate the room with the Kragle. Batman then joins Emmet with his grappling gun, allowing Emmet to swing onto the Kragle and put the Piece of Resistance on the tube.
Unfortunately, the group is detected, and Lord Business imprisons the Master Builders in his Think Tank, which is set to detonate as he unleashes Kragle on the universe. They are all saved when Emmet sacrifices himself to remove the power source for this detonation, and the remaining protagonists go to Bricksburg to help fight off Lord Business's forces. They are almost overwhelmed, but Emmet arrives back from the real world and confronts Lord Business, convincing him to let people take his creations and do new creative things with them, rather than trying to freeze them in place forever. Lord Business's headquarters explode as he puts the cap on the Kragle, rendering Lord Business's forces immobile and saving Batman and the others. During the following celebration, Batman ends his relationship with Wyldstyle on mutual terms, believing she deserves to be with Emmet.
The LEGO Batman Movie

[

edit

]
Official descriptions
[
edit
]

This is a description taken from LEGO.com. Please do not modify it. (visit this item's product page)
Super Heroes
Batman is back in black! The Dark Knight minifigure is more mysterious than ever in shiny black costume as he banishes crime from the streets of Gotham City, one infamous villain at a time. As the handsome billionaire Bruce Wayne by day and a vigilant super hero by night, Batman watches the night sky for Commissioner Gordon to light the Bat-Signal. After a quick costume change, he'll swoop down from the Gotham City skyscrapers to soar into action and save the day with high-tech accessories
Classic
POW! WHAM! Batman is on the scene in Gotham City as The Caped Crusader from the comics! Criminals and thugs don't stand a chance against this lean, mean minifigure with his fabric cape and bright yellow utility belt. Even though Batman doesn't have any superpowers, his amazing detective skills, martial arts training and high-tech gadgets are more than enough to strike fear into villains everywhere!
Arctic suit
Batman believes in being prepared for any emergency. When cold-weather crooks like Mr. Freeze threaten Gotham City, Batman suits up in his thermo-regulated, ice-proof arctic suit to save the day!
Scuba Suit
Villains at Gotham Harbor beware; going out to sea won't keep SCUBA Batman from chasing you down and dishing out justice. Exploding with aqua power, he zips through water as silent and deadly as a Great White Shark, his super-reinforced scuba suit protecting him from creatures of the deep as he heads to his target. Even radio-controlled penguins loaded with dynamite can't stop SCUBA Batman from tearing into battle. With one perfectly aimed shot of his harpoon, villains are sunk. Gotham City is safe once more.
The LEGO Movie
He makes it no secret he prefers to work alone, since he could probably get the job done better and faster than anyone else. He is presently Wyldstyle's boyfriend, and lacks very little in the looks, ability or confidence department.
The LEGO Batman Movie
Night-stalking crime-fighting vigilante. A heavy metal rapping machine. Super Hero. Master Builder. Batman is all of those and so much more. Equipped with a utility belt packed with Batarangs, grappling-guns and other inventions, and backed up by a Batcave full of cutting-edge vehicles and batsuits, Batman has sworn to forever defend the citizens of Gotham City against crooks and super-villains. Batman ALWAYS works alone. He's also got a really sweet music career going, thanks for asking.
Bat-Fact: Batman thinks his roommate, Bruce Wayne, is a super-cool guy.
Lobster-Lovin' Batman
Who needs company? Not Batman™, that's for sure! A big empty mansion, a comfy robe, and a microwaved lobster dinner-for-one make the perfect meal for a Dark Knight dining on his own. It's probably what all of the billionaire playboy crime-fighting vigilante Master Builder Super Heroes are eating tonight!
Fairy Batman
He's here to grant your wish…for dance! To become the world's greatest Super Hero, Batman™ had to train to master every skill. EVERY skill. He's not just the best at martial arts and building brick inventions, but at ballet dancing too. In fact, the Dark Knight has found that all of that ballet practice has really improved his balance, coordination and leg strength – all useful skills for fighting crime!
Glam Metal Batman
Oh, didn't you know that Batman™ has a music career? Well, he does, and it's going great. When he's taking breaks from working on his latest ground-breaking album about darkness and brooding, Batman likes to really let loose and rock out in his glam metal rocker outfit. When they hear those powerful electric guitar chords, criminals have no choice but to surrender…to APPLAUSE!
Clan of the Cave Batman
A good Dark Knight Detective is prepared for any eventuality. Maybe he'll have to travel back in time to the Paleolithic era. Maybe he'll need to go undercover as part of a museum exhibit. Maybe he'll fight a bad guy who's really scared of leopard-print fabrics. Either way, Batman™ is ready for prehistoric action thanks to his totally old-school caveman costume!
Vacation Batman
With crime all under control in Gotham City, what's an out-of-work Dark Knight to do? Finally take a vacation, that's what! Batman™ may usually work at night, but now he's ready for fun in the tropical sun with his flippers, goggles and bobbin' floatie ring. Let's hope he remembered to pack some sunblock, or he might be in for a nasty sunburn!
Gallery of variants
[
edit
]
Comics and cartoons
Live action
Super suits and novelty variants
LEGO movies
Mighty Micros
Other
Video games
[
edit
]
LEGO Batman
LEGO Batman 2
LEGO Batman 3
Other
Appearances
[
edit
]
Batman
DC Comics Super Heroes
The LEGO Movie
The LEGO Batman Movie
Dimensions
Juniors
LEGO Games
DUPLO
Magnet set appearances
[
edit
]
Batman
DC Comics Super Heroes
Key chain appearances
[
edit
]
Batman
DC Comics Super Heroes
Video game appearances
[
edit
]
Film appearances
[
edit
]
Television appearances
[
edit
]
Book appearances
[
edit
]
Online comic appearances
[
edit
]
Gallery
[
edit
]
The LEGO Movie
[
edit
]
Video games
[
edit
]
References
[
edit
]
↑ These are the Justice League members seen in LEGO Batman 2 and 3 and The LEGO Batman Movie, minus the obscure Super Friends characters. Other notable Justice League members released as LEGO figures include Firestorm, Plastic Man, and Shazam!
See also
[
edit
]