From Brickipedia, the LEGO Wiki
The Airborne Clone Trooper is a Star Wars-themed minifigure released in 2014.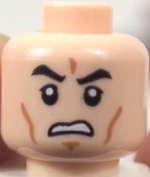 The Airborne Clone Trooper's legs are white with a black hip joint, and features printing for the clone trooper's armour, including an orange left kneepad with two orange slashes above it. Like on the body and helmet, the legs also feature grey printing, representing battle damage. The trooper's body is again white to represent the primary colour of the armour, and features printing on both sides, including black for detailing and outlining. Orange printing is used throughout to match the paint scheme used by the 2nd Airborne Company, including the two orange slashes again, this time on the left side of the chest. Additionally, two bandanas are printed on both sides- a tan one running diagonally over the left shoulder which also features grey ammunition packs on the front, and a grey strap running vertically over the left shoulder and attaching to the belt on either side. Black hands are used for this clone trooper, with one standard white left arm, and one orange right arm, which is used to represent the clone's shoulder pad. The Airborne Clone Trooper's head piece is the same as the one first introduced in 2013 and used on Phase I clones- a flesh-coloured piece with black dot-eyes, facial outlining and an angry expression. This minifigure comes with three accessories- a helmet, kama and blaster. The helmet is a mould designed especially for this trooper, which has been made to better reflect the armour which is used for high altitude drops in the Star Wars universe. Instead of the traditional "T"-shaped visor, black printing is used for a thin horizontal visor, as well as for areas below, including the enlarged beather in the mouth area which also has grey printing in the centre. 212th Battalion orange is used towards the botom of the helmet and for two slashes above the visor. The trooper's kama piece is a grey cloth, which is wrapped around the top of the legs, while the firing blasters, new to the wave that this trooper was a part of, is black with a dark grey firing piece that attaches to the main part of the blaster. A transparent light blue stud then attaches to the end of the blaster, which can be then fired by pressing down on the grey part.
Clone troopers in the 212th Attack Battalion and 2nd Airborne Company served under the command of Clone Commander Cody and General Obi-Wan Kenobi. Members of this company were present during the Battle of Utapau.