From Brickipedia, the LEGO Wiki
Clone Jetpack Trooper is a Star Wars: The Clone Wars minifigure introduced in 2009. They made their first and only appearance in the 7748 Corporate Alliance Tank Droid.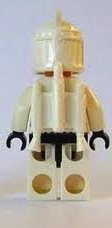 Like all standard The Clone Wars Clone Troopers, Clone Jetpack Trooper minifigures have white legs with a black hip joint, a white torso with black hands and a two-sided black and grey printing design depicting clone trooper armour. It also has a flesh-coloured face with printed eyebrows, brown eyes, mouth and detailing, commonly covered with a white helmet with black and grey printing for the visor and other features. What makes Clone Jetpack Troopers unique is their white jetpack worn on their backs, attached to the minifigure between the torso and head pieces. The minifigure comes armed with a blaster.
Throughout the Clone Wars, situations sometimes developed which called for the use of jetpacks in battle. Clone troopers were known to don jetpacks, allowing them to cover greater distances and to get to places otherwise inaccessible on foot, and to gain a tactical advantage over enemies.