71001 Minifigures Series 10
From Brickipedia, the LEGO Wiki
Minifigures Series 10 is a series of Minifigures released in May 2013. It includes 16 minifigures and also features an additional, very rare one, Mr. Gold, of which only 5000 were distributed.

This is a description taken from LEGO.com. Please do not modify it. (visit this item's product page) With 17 all-new, special minifigures in Series 10, the LEGO® Minifigure Collection continues to grow. Each minifigure comes in a sealed 'mystery' bag with its own special accessories, display plate and collecto r's leaflet. Inspired by movies, sports, history and just everyday life, this collection includes: Warrior Woman, Decorator, Sad Clown, Roman Commander, Bumblebee Girl, Motorcycle Mechanic, Grandpa, Revolutionary Soldier, Baseball Fielder, Librarian , Sea Captain, Medusa, Skydiver, Trendsetter, Paintball Player, and Tomahawk Warrior.
Each Minifigure includes unique character accessories, a display stand with LEGO studs and a Series 10 collector's leaflet
A surprise each time! You never know which Minifigure is hiding inside the sealed "mystery" bag.
Collect and trade with your friends!
Additionally 5000 Mr. Gold minifigure's with a staff were distributed.
This series includes a golden minifigure named Mr. Gold which will be randomly distributed throughout the world.[1] There will be a total of 5,000 golden minifigures distributed, which will also contain a code to LEGO.com, which, when entered, will show the number of golden minifigures that have been found throughout the world at that point in time.[2]
This is the first (and possibly only) series to have more than 16 figures, with the 17th being the rare Mr. Gold.
This is the only series that has a most minifigures with additional printing.
This is the second series that is released in May. The first being was 8831 Minifigures Series 7.
Bumblebee Girl, Medusa, Paintballer, Revolutionary Soldier, Roman Commander, Sad Clown, Sea Captain, Skydiver and Warrior Woman are the only minifigures from this series confirmed for the LEGO Minifigures MMO.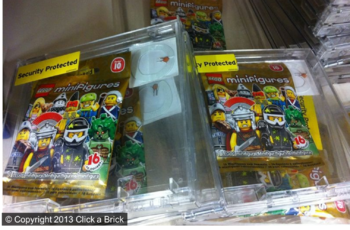 Series 10 was a very controversial series of minifigures as problems occurred from both fans and stores.
Many Toys "R" Us stores placed signs near the minifigure packets to tell fans that they had all been checked by staff for the Mr. Gold minifigure, and that any found are kept and presumably sold by the store due to it's high value.
Some major supermarkets also faced the problem of having people rip open each individual packet to find Mr. Gold (or any other minifigure they desired) and then stealing them.
As a result of this, some Sainsbury's stores in the UK were forced to place each individual packet inside a security protected case to prevent people from ripping open the packets in the hope of finding Mr. Gold.[3]