From Brickipedia, the LEGO Wiki
Equila is a Legends of Chima eagle minifigure released in 2013. He is a member of the eagle tribe and is the announcer at the monthly Speedor races.
Description
[
edit
]
Equila has a torso and belt with light blue skin, like the head-piece under the eagle 'helmet'; white arms and legs; and hands of flame yellow. On his 'toes', Equila has markings like those of eagle talons. He has golden printing on his knees, and also on his belt. His 'helmet', white in base colour, has a flame yellow beak, black rings over the eyeholes, blue feathers at the top, and three 'prongs' rise from the back. His eyes, are revealed through the eyeholes, their red and white. Over his torso, Equila wears a golden shoulder armour piece with a transparent light blue flat-stud piece in the middle. White eagle wings connect to the back. His torso is light blue and it has muscular printing.
Background
[
edit
]
Spoiler warning: Plot or ending details follow.
Equila is a member of the Eagle Tribe and lives at the eagle spire with the other eagles.
Equila commentates the majority of the Speedorz events at the Chi-day festivities. ("Market Day")
In Laval's Journey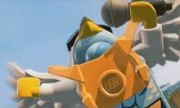 Equila served as commentator during the Speedorz joust and declared Cragger as the winner.
Spoilers end here.
LEGO.com Descriptions
[
edit
]

This is a description taken from LEGO.com. Please do not modify it. Equila
Equila is the Eagles' flying "ace" and loves to dive bomb enemies, whether in play or in battle. Equila flies an Eagle jet, a powerful feathered master of the skies, and takes great pains to keep the coveted jet in excellent repair. When not flying, Equila is the proud guardian of the mighty Eglaxxor, the first royal weapon of the Eagle tribe.
Equila's name is quite possibly derived from 'aquila', which is the latin word for 'eagle.'
He is the guardian of the Eglaxxor.
He is nearly identical to Ewar, but the Eagle head has different printings.
Appearances
[
edit
]
TV Appearances
[
edit
]
Video Game Appearances
[
edit
]
Gallery
[
edit
]