From Brickipedia, the LEGO Wiki
Crug is an Legends of Chima minifigure released in 2013.
Description
[
edit
]
Crug's head is composed of a dark brown helmet-like piece designed to fit over a normal minifigure head and to look similar to an actual crocodile. This piece features a metal jaw and scales above the eyes. Crug's yellow eyes show through the piece, with a squinting expression. The top of Crug's head features scutes that run down the back.
Crug is shirtless, but wears a necklace over his scarred torso. Over his waist is a torn belt that appears to have a chi orb surround by bones or claws. Below the belt is a dark red loin cloth that covers most of Crug's hip area, alongside stringed teeth. His skin is brown in colour, unlike the other crocodiles. On his feet are white claws and his knee area features printing. Crug's back printing features an extension of the belt and loin cloth as well as scales and somewhat of an extension of the scutes that run down his head piece.
Background
[
edit
]
Shortly after the crocodiles' defeat, Crug assisted with Cragger's futile attempt to destroy ShadoWind near the grand archway. At the following market day race, Crug and Crawley were told by Furty that the other tribes planned to cheat and in retaliation, he and Crug placed a large rock in the middle of the racetrack. When the crowd members turned against one another, Crug attempted to storm the lion city, but was restrained by Longtooth. After the wolves had escaped with the stolen Chi, Crawley and Crug escorted their wounded king home. ("Foxtrot")
When they returned to the crocodile swamp, Crooler presented Cragger with her share of the stolen Chi, yet the enraged king ordered Crawley and Crug to throw her out and forbade her sister entrance again. ("The CHI Jackers")
When Cragger returned from the failed peace talks under the influence of the Fog of Destiny, Crug was ordered by him to throw Crooler in their dungeon. ("Reunion Gone Wrong")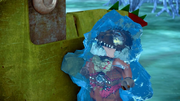 When the Hunters returned to Chima, Crug was the only crocodile besides Cragger and Crooler not to be taken captive by the Hunters, though he was temporarily frozen to the helicrocter while trying to escape. He was later thawed out by the Lion Elders and an annoyed Longtooth. After Laval and Cragger defrosted the swamp, Crug returned to the swamp where he stayed with Crooler. ("Attack of the Ice Clan","Cool and Collected")
Crug accompanied the crocodile prince and the rest of his part on his hunt to find Plovar after the bird was captured. ("The King Thing")
LEGO.com Descriptions
[
edit
]

This is a description taken from LEGO.com. Please do not modify it. Crug
Crug is Cragger's lead Thug. He's just big, strong, and blindly obedient. He never questions his orders. He just plows ahead with whatever insane task Cragger requests of him. Despite his volatile and dangerous nature, he sleeps with a stuffed Teddy-Bear-like frog he calls, "Mr. FlipperLovey."
Appearances
[
edit
]
TV Appearances
[
edit
]
Mini-Movie Appearances
[
edit
]
Video Game Appearances
[
edit
]
Gallery
[
edit
]
Sources
[
edit
]