From Brickipedia, the LEGO Wiki
G'Loona is a Legends of Chima minifigure released in 2013.
Background
[
edit
]
G'Loona is the only known female in the Gorilla tribe and is a youngster, having short legs. She is an orphan, and taken care of by Gorzan. In a webisode, she secretly uses Gorzan's Gorilla mech and goes for a stroll, wrecking the Ravens' merchandise and finding Grumlo. In the Hundred Year Moon episode, she is kidnapped by the Crocs and is found by Wonald, effected by the Hundred Year-Moon, who she leads back to Laval's hideout.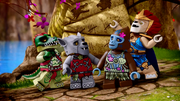 Soon after the defeat of the crawlers, G'Loona and Wonald journeyed to the Forever Rock where they listened to Laval and Cragger tell of their trip to the Outlands. The two princes then drove the children to the market and on the way, G'loona commented how she wished they could go on an adventure, only to be lectured by Eris. After Gorzan won the market day race, G'Loona celebrated his victory with the other gorillas. ("Fire Dreaming")
In Laval's Journey

[

edit

]
G'Loona can be found in the sanctuary forest section of the hub where she requests help finding her baby gorilla toy which the ravens stole.
Appearances
[
edit
]
TV Appearances
[
edit
]
Mini-Movie Appearances
[
edit
]
Gallery
[
edit
]