From Brickipedia, the LEGO Wiki
"Woohoo! It's blazn' time!"
―Foltrax
Foltrax is a Phoenix Legends of Chima minifigure released in 2014. He is the captain of the Blazing Bastion and has appeared in a few episodes of Legend of the Fire Chi.
Description
[
edit
]
This article or section is incomplete.
Please improve the article, or discuss the issue on the talk page.
Background
[
edit
]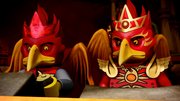 Foltrax is the captain of the Blazing Bastian. He has spent the thousand of years that the Phoenix kept themselves hidden waiting to take the plane out for a spin once more. When at last the hidden city was revealed following the return of the Hunters, Foltrax eagerly flew Fluminox and the Royal Guard to the Crescent where they pushed back the hunters and landed. ("The Crescent")
A few days later, Foltrax flew his king and Tormak from the city back to the Crescent so they could warn the Chima tribes of the underground tunnels the Hunters were using. On the way there, he performed several stunts with the plane, much to the dismay of his passengers. ("Cool and Collected")
Personality
[
edit
]
Unlike his king, Foltrax is very laid back and enjoys executing daredevil stunts with the Blazing Bastion.
Description from LEGO.com
[
edit
]

This is a description taken from LEGO.com. Please do not modify it. (visit this item's product page) Foltrax is the pilot of the Blazing Bastion, the flying vessel of the Phoenix tribe. For years, he has been waiting for the chance to really see what the Blazing Bastion can do, but because the Phoenix city was hidden, he was not allowed. Now that he has the freedom to fly, he intends to take advantage of it. Foltrax is always pushing himself and his gear to its limits, whooping and hollering as he goes. Anyone who flies with Foltrax had better be prepared to hold on to their stomachs (and anything else that might be handy), because he loves to loop-de-loop!
Appearances
[
edit
]
TV Appearances
[
edit
]
Video Game Appearances
[
edit
]
Gallery
[
edit
]