From Brickipedia, the LEGO Wiki
Flinx is a phoenix Legends of Chima minifigure first released in summer 2014. He is the son of Fluminox and Florax and has appeared in a few episodes of Legend of the Fire Chi.
Background
[
edit
]
Flinx is Fluminox' and Florax son. He was born shortly before the first Illumination to the Phoenix King and queen. Fluminox failed the Illumination because he could not leave him behind.
During Laval and Cragger's Trial by Fire, Flinx acted as a person in distress to test if they would risk their lives for someone they didn't know. When they cleared that stage of their trial, Flinx showed them the next stage. ("Trial by Fire")
Flinx was on the steps of the phoenix city playing with a ball when Eris returned seeking more Fire Chi. ("The Crescent")
Soon after the destruction of the Hunter's fortress, Flinx was given a fire sword which he showed off in the market place while Laval and Eris talked of the panther. He burnt an item to which Laval ordered him to go away and he walked away knowing they weren't really impressed anyway. ("The Artifact")
When the hunters broke into the Phoenix temple, Flinx was told of his father's backstory by Sir Fangar. After being instructed to be the 9th phoenix, the saber tooth tiger threatened to kill him and backed Flinx up to the heart of Cavora nearly pushing him off the edge. As the heroes collided he jumped into the hole and pushed the hunters out of the temple. He emerged wreathed in flames in the shape of a glorious phoenix. Flinx ascended to his mother sun with his father and reunited with his mother Florax after unfreezing the rest of Chima. ("The Heart of Cavora")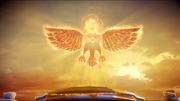 Description from LEGO.com
[
edit
]

This is a description taken from LEGO.com. Please do not modify it. (visit this item's product page) Although he's been around for thousands of years, Flinx still acts like a kid, and that's how he likes it. Despite efforts by his father, Fluminox, to get him to grow up and accomplish something, Flinx is happy to just hang out and have fun. Flinx is notorious for not finishing anything he starts, from big projects to tying his shoes. Part of the problem is that he already knows he is one of the most powerful beings around, and he doesn't want to deal with the responsibility of that. Fluminox and Laval hope to help Flinx "find his spark."
Appearances
[
edit
]
2014
2015
TV Appearances
[
edit
]
Mini-Movie Appearances
[
edit
]
Gallery of Variants
[
edit
]
Gallery
[
edit
]