From Brickipedia, the LEGO Wiki
Winzar is a Legends of Chima minifigure released in 2013.
Description
[
edit
]
Winzar has light grey arms, torso, legs, and head, along with a dark red hip. His feet each have 3 printed claws. His torso has a six-pack and a patch of fur with a blue stone in the center. His head has 3 scars going across his left eye.
Background
[
edit
]
Yet now with all the stolen Chi, the wolves became more bold and began raiding the tribe's Chi convoys between the Lion City and the villages. Winzar took part in several of them, including the raid on the beavers. When the lion tanks left to transport of the raven's Chi, Winzar was on lookout and signaled to the rest of the wolf pack that the lion city was defenseless. The next day, Winzar and the other wolves ambushed the lions in the Grand Archway Canyon while transporting the bear's Chi. ("The CHI Jackers")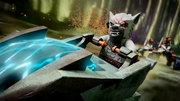 Soon after, Winzar and the wolves attempted to steal the bear's Chi on their way home, but fled when the Lions arrived. He and the other wolves attacked the Lion shipment later and managed to get away with half of the Chi.
Winzar accompanied the other wolves when they went to the crocodile swamp with the lions, rhinos, and gorillas to face off against the Hunters for the first time. During the battle, Winzar served as a gunner. ("Attack of the Ice Clan")
Winzar was part of the final battle in Chima's civil war, fighting on Cragger's side. When the Crocodile Legend arrived, Winzar stopped fighting and gathered round with the other Chima tribes to hear of the new tribes in the Outlands. ("For Chima!")
About midway into the battle against the Ice Hunters, the phoenix sent the Legend Beasts to protect the tribes. Winzar was present at the wolf camp when the Wolf Legend arrived and celebrated its return by howling with the other wolves. ("Cool and Collected")
LEGO.com Descriptions
[
edit
]

This is a description taken from LEGO.com. Please do not modify it. Winzar
Winzar doesn't know the word "fear". Really, he has no clue what it means. Strong, fast, and cunning, he'll be the first over the top of the hill, attacking enemies. The mere sight of him loping over the terrain is often enough to scatter lesser foes. But his aggression comes with a price… he's battle scarred from top to bottom, with a nasty set of clawmarks disfiguring his face. Don't bother asking him how he got the wounds… he'll be only too happy to demonstrate.
Appearances
[
edit
]
TV Appearances
[
edit
]
Video Game Appearances
[
edit
]
Gallery
[
edit
]
Winzar.png

Winzar in the television show