From Brickipedia, the LEGO Wiki
"Don't worry, my friend, I make you good deal, yes?"
―Razar
Razar is a raven Legends of Chima minifigure first released in 2013. Razar is a member of the Raven tribe and appears occasionally in Legends of Chima: The Animated Series. He also is a playable character in Laval's Journey.
Description
[
edit
]
Many of Razar's pieces are black; his belt, legs, arms, torso, head, wings, and helmet. His right hand is purple, and his left hand is replaced by a silver hook. His toes have dark grey talon printing, three talons on each leg. He wears belts on his legs, and some sort of knee printing is below them. His belt has dark red printing with a silver belt buckle; and his torso has six black belts holding pendants in place on the front and at the back. Only the front pendant has an ornament, however; it is a small, round stone coloured light blue, with a reflection of white at the top of the stone. Behind his belts, he has a number of purple shapes, resembling feathers. His head printing is on both sides, with an expression for each, but both have red markings between and around his eyes, orange eyes with red pupils below black eyebrows, and a metal beak with rivets and jagged edges. On one side, his beak is slightly open, and his eyes are glaring; on the other, his beak is closed, and his eyes are half-shut, signifying boredom or disdain. He wears a silver shoulder armour piece with a transparent blue flat stud on the front; clips at the back connect to black raven wings with a profuse amount of feathers. His helmet has a metal beak with jagged edges and rivets, a base colour of black, and dark red markings around the eyeholes, with silver borders around the dark red. The beak is short, thick, and pointed, and it has scratch markings. At the back of the helmet, there are black feather-like protrusions.
Background
[
edit
]
Spoiler warning: Plot or ending details follow.
Razar is one of the Raven tribe, a companion to Razcal, Rawzom and Rizzo. He is the owner of a Chi Raider vehicle. He also flies a small flying vehicle with two laser swords on the front and black wings. During the first season, Razar was an antagonist, allied with the Wolf, Rhino and Crocodile tribes. He shows this with a weapon that was created by the crocodile tribe, the Vengjacked. His other weapons are named Slizar and Thundax. In Fake Chi, Real Trouble he tells Crooler about the Persuader Plant she uses. According to him it's called the Salesman's Best friend because Ravens used it to make anyone buy what ever they told them to buy. After this Razar tells Crooler about Reegull and that he might make her mind control potions. When he sees some of his fake Chi he explains it to Cragger. The Ravens call it Reegull's Chigull and say that if it worked they would sell it by the truckload. After seeing Crug fall under the Chigull's and Cragger asks if it'll happen to everyone who uses it and Razar replies "Pretty much".
Razar was flying his Chi Raider under the Grand Archway when Laval and Eris took their joyride and was forced to dodge falling rocks. ("The Joyride")
Soon after the event, Razar was visited by Wonald informing the raven about the hundred year moon phenomenon. Razar hoped to use this to his advantage by selling wolf proof locks, (that Wonald was actually able to break with ease.) ("The Hundred Year Moon")
A few months into ShadoWind's winning streak at the Speedor track, Razar and a few other ravens helped the crocs try to trap the mystery rider by the Grand Archway, but they failed. At the following Speedor race, Razar represented the ravens and crashed when Rogon knocked him out of Eris's way. ("Foxtrot")
When the wolves began their Chi stealing raids on the Chima roads, Razar deemed it wise to request lion assistance in transporting their Chi home. Laval agreed and their Chi shipment arrived without any trouble, due to the wolves using this as the time to raid the Lion City again. ("The CHI Jackers")
Razar assisted the other ravens to collect their CHI when Laval dropped it from the eagle jets as a way to evade the ever-powerful wolves. ("Balancing Act")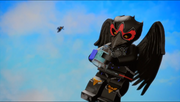 Upon the first appearance of the mysterious black cloud in Chima, Razar attempted to capture some of it and sell it as "shade-in-a-jar", but he was unable to obtain a portion of it. Later in the day, he answered Laval's summons to protect Mount Cavora from the cloud and shot at it in honor of his failed business plan. ("The Black Cloud")
Before venturing into the Outlands, Razar and the other heroes stopped by the Lion City as Lagravis reminisced about everything that had happen since the battle at The Fangs. Undeterred by his fathers words however, Laval inspired Razar and the others, prompting them to race out of the Lion Temple.
At the Market Day following their return to Chima, Razar started selling people's portraits on a replica legend beast. That night, he attended Laval's bonfire at the Forever Rock. When the topic of how Chima began came up, Razar assured everyone that the "Master Thief" stole Mount Cavora from the ground and hid it in plain sight. ("Fire Dreaming")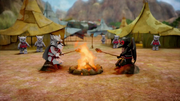 Razar was at the wolf camp roasting marshmallows with Worriz when Laval summoned them to the Crescent to guard it for the phoenix king Fluminox. ("The Crescent")
On the day after the arrival of the Legend Beasts, Razal and Razar journeyed to the Rhino Quarry where they discovered that the rhinos were using their brain boost provided by being near their legend beast to turn regular rocks into precious metals. The two ravens planned to steal it all, but were quickly frozen by Maula. However, they managed to escape and evade Sir Fangar's collection. ("The Snowball Effect")
Razar attended Laval's meeting in the map room to discuss possibilities of freeing those trapped in Sir Fangar's trophy room, though for some reason, he did not partake in the rescue mission. ("A Very Slippery Slope")
Shortly after the destruction of the Hunter's fortress, Razar and Rascal helped search the land on their speedorz for any signs of the Hunters. That night while flying in his Chi Raider, he noticed the Hunter's gathered at Spiral Mountain and alerted the other tribes. ("The Artifact")
In Laval's Journey
At the request of Cragger, Razar kidnaps Bladvic and brings him to the sanctuary forest to retrieve the Gorilla's Glove, a part of the Triple Chi Armour. When Laval and Eris arrive, Razar uses a gorilla striker to attack them. When he is defeated, he flees and delivers the glove to Cragger.
Razar can be found the Chi-day market section of the hub where he requests a golden eagle totem in exchange for the x2 stud multiplier red brick
Spoilers end here.
Razar is voiced by Jeff Todd.
In his ultrabuild version, he doesn't have a hook hand.
LEGO.com Descriptions
[
edit
]

This is a description taken from LEGO.com. Please do not modify it. http://www.lego.com/en-us/chima/world-of-chima/animals/raven-tribe/razar
Razar
A self-centered opportunist, Razar never does ANYTHING that doesn't somehow benefit Razar. Be suspicious if he ever appears "generous" because he's almost certainly working some kind of angle. At least he's predictable – he will always do the most greedy and selfish thing possible. He has allied himself with Cragger not because of any philosophical sympathies, but because he saw it as the most profitable path to take. Every conflict has its spoils, and Razar has his eyes on snatching up as many of them as possible. Besides, Laval is too much of a "goody two-paws" for him. Will Razar ever see the error of his ways? It depends – is there any money in it? If so... maybe. Razar is a pure mercenary who will fight for the highest bidder... and then steal all their weapons when they're not looking.

This is a description taken from LEGO.com. Please do not modify it. http://www.lego.com/en-us/chima/world-of-chima/animals/raven-tribe/razar
Razar
The most important thing in Razar's life has always been: Razar. He wouldn't do anything for anyone if it didn't involve profit. So why has he joined with Laval, Cragger, Eris and the others for a dangerous trip to the Outlands, risking his life to save the land's CHI supply? It's simple. His sharp mind has calculated that if the Scorpions, Spiders and Bats win, there won't be any profit to be made by anyone anymore. Now Razar is willing to do things that are generous, even brave, without asking for anything in return -- because he's thinking about all the deals he'll be able to make when this is all over.
Appearances
[
edit
]
2013
2014
2015
TV Appearances
[
edit
]
Mini-Movie Appearances
[
edit
]
Video Game Appearances
[
edit
]
Gallery of Variants
[
edit
]
Gallery
[
edit
]
See also
[
edit
]